Houses into Homes: Loans to improve empty north Wales property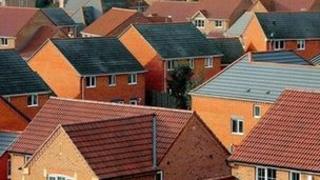 People looking to improve empty properties in north Wales will be able to apply for financial help in a bid to ease a housing shortage.
The Welsh government's Houses into Homes scheme provides interest-free loans of up to £25,000 to improve houses and flats.
It wants to tackle the 20,000 lying empty in Wales and to meet a growing demand for properties.
It has £2.35m to share between homeowners and developers in the area.
Eligible properties must have been empty for six months or more.
Each property can receive a loan of up to £25,000, but each applicant can have a maximum of £150,000.
Councillor David Smith, Denbighshire's cabinet lead member with responsibility for housing, welcomed the £300,000 of loans available in the county.
He said they "will go a long way in helping turn empty or derelict properties into homes for people across the county".
Housing Minister Huw Lewis called empty homes "a wasted resource".
"There are approximately 20,000 long-term empty properties across Wales, depriving people of a much-needed home and blighting the community," he said.
"Providing good quality, affordable homes for people is a priority across Wales and we have been exploring a number of ways to help us meet the growing demand.
"We hope the Houses into Homes scheme will encourage landlords, homeowners and developers to come forward and turn empty properties into homes."