Rural thefts: NFU Mutual figures show 30% rise in Wales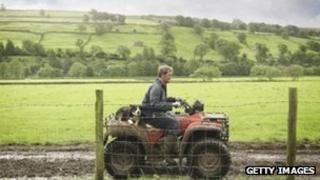 Rural crime is rising significantly across Wales, insurance figures suggest.
Statistics from rural insurer NFU Mutual show rural thefts totalled £2.3m in 2011, compared to £1.7m in 2010, a rise of more than 30%.
The theft of 21 breeding sheep from a farm near Usk is one recent example
Poor economic conditions and rising commodity prices are being blamed for the increase, and tools, diesel, vehicles, oil and metal top the list.
Brian Walters, vice-president of the Farmers' Union of Wales, said: "Certainly there's been an increase in the number of sheep that have been stolen.
"That's a very concerning trend because when you have got sheep on the mountains, they are a bit vulnerable out in a remote area where there is easy access to them."
He said the high price of fuel was also a problem because it gave thieves "an opportunity for something that is very valuable and sometimes easy to steal".
"I think the message is farmers have to take precautions," he added.
Recently, 21 Lleyn Cross mountain sheep were taken from a farm in Llangwm, near Usk.
Steve Powell, a farmer in Caerphilly, now uses a metal shipping container to store his quad bike and power tools after being targeted by thieves.
He remembered the first time one of his bikes was taken: "This particular one had only done one and a half miles, it hadn't been here 48 hours and they must have pushed it out of the yard, took it down the road and it was hidden in a neighbour's wood," he said.
"It's a constant worry at night, a car pulls up outside, you're out of bed and looking down the road. We work enough hours as it is, and it's always on your mind."
Gwent Police says organised gangs are roaming the countryside looking for opportunities to steal.
Insp Andy O'Keefe, who helped set up Farm Watch, said: "There are instances where there are organised groups targeting farms but also there is the opportunist criminal, who will look to see what they can take.
"We do have a system called the online watch link, also known as Owl, where we are able to pass out messages to farmers.
'Acting suspiciously'
"It could be to report a recent theft or report vehicles that may be acting suspiciously. It gets that message out to them quite quickly and they can report back to us if they were to see that vehicle."
Combating rural crime is becoming big business.
Oliver Window, the managing director of Select Rural Security Specialists, based in Crickhowell, travels the country demonstrating cameras, alarms and trackers.
He has been in business for two years and says turnover has doubled each year.
"Business has been very good, I started on my own and now we're a team of seven and we're looking to open a second branch in north Wales," he said.
"There's been a steady increase in rural crime and thefts. Diesel, quad bikes and machinery are all valuable commodities and they seem to be easy things to get your hands on."
Police forces across Wales have stepped up patrols in rural communities.
High commodity prices continue to fuel a surge in metal thefts and a growing demand from eastern Europe for crop spraying chemicals, which can cost more than £600 for 10 litres.