Ifor Williams Trailers fire 'Dee contamination avoided'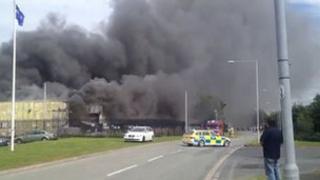 Officials say fire crews put out a blaze at a trailer manufacturing plant in Flintshire without contaminating the nearby river Dee.
No-one was injured in the fire on Tuesday at Ifor Williams Trailers on the Deeside Industrial Estate.
Some 70 members of staff were evacuated as five fire crews fought the fire.
"The fire service (took) precautions to contain the water used to fight the fire as much as possible," said Environment Agency Wales (EAW).
The blaze was reported at about 13:00 BST on Tuesday.
Crews from Deeside, Buckley, Mold, Holywell, Wrexham and St Asaph fought the flames.
"We did not see any impact on the Dee," said an EAW spokesperson.
"Water used to put out fires can be very contaminated and, if it escapes into stream and rivers, can cause damage.
"We have worked closely with all fire services in Wales to put in place procedures which reduces the risk of this happening so the environment is protected as much as possible."
A spokesman Ifor Williams Trailers thanked North Wales Fire and Rescue Service for its prompt response and its efforts in tackling the fire.