Welsh Ambulance Service target failure blamed on summer pressures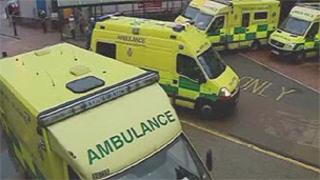 "Unprecedented" summer pressure has been blamed for the Welsh Ambulance Service failing to hit its emergency response time target.
The service was called more than 35,800 times in July, with over 14,300 category A life-threatening calls.
Latest figures show that 64.1% of responses to category A call-outs arrived within eight minutes, just below a 65% target.
The Welsh government said the pressure had put a strain on services and staff.
Earlier this month, the ambulance service warned about "inappropriate" 999 calls, ranging from men with hangovers to a woman bitten on her finger by a hamster.
Performance has improved in local authority areas, with 16 out of 22 now above the 60% target set for each county, up from 14 in June.
But the picture is varied. The worst performing county was Anglesey where 54% of responses to category A calls arrived within eight minutes.
The best performing area was Cardiff with 71.7%, while more than 70% of ambulances in Conwy and Swansea also arrived within eight minutes.
The service met the target for eight months of last year but started dipping below the target early in 2012 before recovering in the spring.
The failure by ambulances to hit the 65% performance target for July has been criticised by the Welsh Conservatives.
Conservative health spokesman Darren Millar AM said: "This is more proof that Labour's record-breaking cuts to the health budget are putting immense strain on resources.
"While our summer may have been wet, there has been no winter ice or snow to heap pressure on response times.
"The truth is that - despite the hard work of staff - bed blocking and long waits outside hospitals remain stubbornly high.
'Hangovers'
"The minister's commitment to hospital downgrades and axing beds across Wales will force many patients to travel further for life-saving care and only stands to make things worse."
But the Welsh government said it had been an usually busy summer.
A spokesman said: "The Welsh Ambulance Service has experienced a period of unprecedented pressure this summer, putting a strain on services and staff.
"In recognition of this unusually busy summer, in July the health minister announced an extra £10m for unscheduled care to put in place improvements which we expect to see in the coming months."
He added: "It was also reported in July that inappropriate 999 calls were on the increase, with people calling ambulances for trivial reasons such as hangovers and hamster bites.
"Clearly, if people expect the ambulance service to meet its targets, they must also use it appropriately and only in the case of a serious medical emergency."