Admiral insurance: 7% half-year profits rise to £171.8m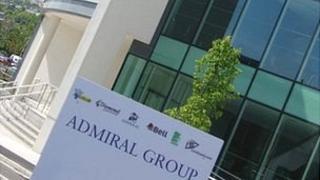 Half-year profits at insurance group Admiral rose by 7% in the first six months of 2012.
The Cardiff-based firm said the better than expected rise meant a pre-tax profit of £171.8m, rather than the £167.7m anticipated by the market.
Admiral, which also has offices in Swansea and Newport and employs some 5,500, owns brands such as Diamond, Confused.com and Elephant.co.uk.
The firm is said to insure one in 10 cars on the UK's roads.
The insurance group said the extra profits were derived from its core business in British car insurance having an income that outstripped costs and claims, ensuring a 9% profits rise in its business.
Overseas business
It said this made up for combined losses in its new overseas business, which more than doubled to £8.9m.
Admiral will pay an interim dividend of 45.1p per share, a 15% increase.
In March this year the insurance group announced record annual pre-tax profits of nearly £300m, an increase of 13%, for 2011.
It said its turnover had risen by 38% to £2.19bn and its customer base expanded 22% to 3.36m.
It was the eighth consecutive year that Admiral had reported record profits and turnover.