Farming insurer's unusual steps to beat rural burglars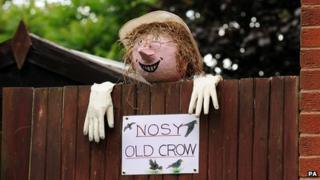 As rural crime rises significantly across Wales, an insurer has offered cheap and unusual advice for farmers to protect their livestock and machinery.
NFU Mutual recommended storing machinery near bulls, using llamas and alpacas as sentries, and putting scarecrows in farmyards.
It comes after its figures showed rural thefts were up by more than 30% in 2011.
NFU rural affairs spokesman Tim Price said rural crime was a major problem.
He said thieves were targeting tractors, livestock and fuel.
"Farmers are a pretty resourceful bunch and are protecting their property in some unusual ways such as running llamas with their sheep, as well as using floodlights, padlocks and floodlights to protect their farms," he said.
Keep geese
Rural thefts totalled £2.3m in 2011, compared with £1.7m in 2010.
High commodity prices continue to fuel a surge in metal thefts and a growing demand from eastern Europe for crop spraying chemicals, which can cost more than £600 for 10 litres.
Mr Price added: "We're helping by funding a police unit and offering premium discounts to farmers who fit immobilisers to their tractors."
NFU also suggested keeping geese, which are easily disturbed by motion, as a deterrent to burglars.
Poor economic conditions and rising commodity prices are being blamed for the increase, and tools, diesel, vehicles, oil and metal top the list.
Recently, 21 Lleyn Cross mountain sheep were taken from a farm in Llangwm, near Usk.
Gwent Police said organised gangs were roaming the countryside looking for opportunities to steal.
Meanwhile, police forces across Wales have stepped up patrols in rural communities.