Usk bridge lorry restriction call by town council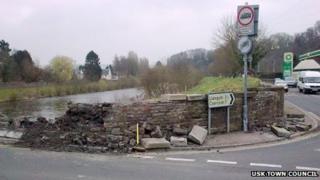 Residents have been urged to back greater restrictions on lorries using an historic Monmouthshire stone bridge.
Usk town councillors claim some lorry drivers use the bridge as a shortcut, flouting a 7.5 tonnes weight limit.
Mounmouthshire council is consulting over plans to reduce the delivery area which allows lorries over that weight to use the 18th Century bridge.
The Road Hauliers Association said this would hit firms and hauliers sited just outside it.
Town councillors have launched a petition, claiming something needs to be done about the repeated damage to Usk bridge caused by lorries.
The bridge has been hit as many as 11 times in a year, bringing repair costs of tens of thousands of pounds.
The consultation on a proposed new restriction continues until the end of September, with a decision expected in October.
Usk's deputy mayor, Alec Leathwood, said he was concerned the haulage industry would have more clout in the consultation process than the people of the town.
He said the proposed new restriction would make it easier for police to stop vehicles over 7.5 tonnes coming from the north which use the bridge as a shortcut to or from Pontypool and the south Wales valleys without a genuine delivery to make in the area.
The petition has been set up at libraries and other locations around the town and the town council has written to residents asking them to sign it, he said.
He said: "The town council was determined that the voice of the people of Usk was heard and we had concerns that that wasn't going to be the case."
"We've been concerned for many years about the heavy vehicles passing through the town.
"It's got ridiculous now. We're very lucky not to have had a major incident."
He added that the issue of increased restrictions may have to go to a public inquiry to resolve.
He said: "There's a general eagerness now to get started. This change adds 10 miles, maximum, to someone's route.
"It's not a huge amount but the bridge is being constantly damaged."
In September 2008, the bridge was damaged by a lorry just days after damage from an earlier lorry strike had been repaired.
Simon Higgins, the Road Haulage Association's area manager for Wales, said he felt sorry for any business just outside the proposed new area which needed goods delivered.
He said: "They would suffer. It would also affect operators in the area who were close to the town but not close enough to go through it.
"If they were forced to take a large detour, they would have to pass the cost of that on to their customers.
"I also sympathise with the police. They have a limited budget and schemes like this are difficult to enforce."
Mr Higgins said a study on a similar situation in the Cotswolds had shown that many of the lorries which broke a weight restriction were either from overseas or had been guided that way by their satellite navigation system.
Monmouthshire Council said it was at an early stage of consultation.
Usk's stone bridge was built in 1746 at a cost of £980 to replace a wooden one.
It was altered 100 years later because it was found to be too steep and narrow for modern traffic.
The 19th Century alterations, costing £200, were carried out after somebody fell into the river from a hay wagon and died.