Pupils' bags blamed for rise in back pain NHS referrals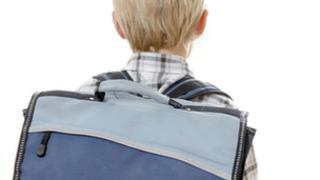 The number of children receiving NHS treatment for back pain is on the rise, according to a study in south Wales.
Heavy school bags are partly to blame, says a paediatric physiotherapist at Swansea's Morriston Hospital.
Helena Webb surveyed schools and interviewed children across the Neath Port Talbot area.
She also found paediatric physiotherapy referrals increased from 2.1% during September 2011 to 4.5% in March.
The figures cover referrals across Swansea, Neath Port Talbot and Bridgend and are expected to remain at about 3.5% to 3.9%.
The research was published by Abertawe Bro Morgannwg University Health Board and included a study of a sample of children aged between eight to 12, and 15-year-olds.
Earlier this year, a separate study of 1,400 pupils found "excessively loaded" backpacks had been causing back problems among children in Spanish schools.
In response, charity Backcare said the average child in the UK carried 15-20% of their body weight to school and back daily, often over one shoulder, which could also cause health problems.
Ms Webb said that in speaking with young patients, she found the absence of lockers and sitting on uncomfortable school furniture were "huge contributing factors to their daily back pain".
'Action required'
"We really need to educate parents, teachers and children about the safe weight for school bags, the correct way of carrying bags and the importance of sitting on appropriate furniture in the classroom," she said.
The physiotherapist said that adolescent back pain sufferers were four times more likely to experience similar problems as an adult.
She is due to address a group of primary and secondary school teachers over the autumn term as part of annual health and safety training.
Catriona Williams, chief executive at Children in Wales, a national umbrella organisation including professionals and councils, said the study highlighted a problem which was not new, but still required action.
She said it was a particular problem for comprehensive schools where children moved between classrooms.
But she said everyone had to assume responsibility for children making use of health and safety advice, and resources such as lockers should be provided.