Diabetes and stroke risk tests at pharmacies in Wales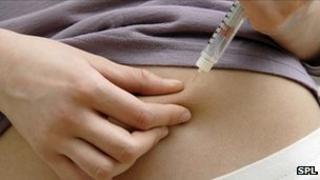 Pharmacies in Wales are offering free walk-in health assessments to help predict people's risk of stroke or diabetes in a two-week health campaign.
The One in Ten project aims to find the 10% of people in Wales who have an increased risk of either condition.
Diabetes UK Cymru said an estimated 350,000 people in Wales are unaware they run a high risk of getting Type 2 diabetes.
Every year 11,000 people have a stroke in Wales.
Community Pharmacy Wales chief executive Russell Goodway said pharmacies are best placed to help as an estimated 50,000 people a day visit a local chemist.
Friend's death
Wales rugby assistant coach Robin McBryde helped to launch the campaign by attending his own risk assessment at a pharmacy in Carmarthen.
McBryde, 42, who gained 37 caps for Wales as a hooker before becoming a coach, is supporting the campaign because beating diabetes and stroke are causes close to his heart.
"I saw my great friend Ray Gravell lose his life because of the complications of diabetes.
"Closer to home, my own mother had a stroke this April - although thankfully she has made a great recovery," he said.
In June 2011, a pharmacy campaign that focused solely on diabetes assessed 17,500 people with 8.4%found to have a high risk of developing the condition and 24% having an increased risk.
Community Pharmacy Wales, the Welsh government's Public Health Wales Unit, Diabetes UK Cymru and the Stoke Association, along with all seven Welsh health boards have all joined forces to deliver One in Ten.
It is the first time that a pharmacy campaign in Wales has focused on two of the main health threats together.
People will undertake a short assessment to spot risk factors in someone's health and lifestyle such as being overweight and smoking.
Depending on the results, people at risk will be given referral letters to their GPs or advised to mention their status to their doctor.
Dai Williams, director of Diabetes UK Cymru, said: "There are an estimated 350,000 people in Wales unaware that they run a high risk of getting Type 2 diabetes.
"If this campaign can find even a fraction of those people, it will be worthwhile because like stroke, diabetes is heavily related to lifestyle. If you know your risk, you can take steps for a healthier future."