Chief medical officer Ruth Hussey: No simple answers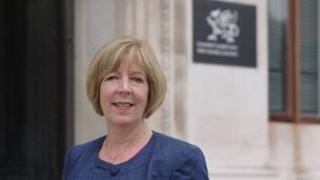 There are "no simple, clever answers" to tackling the country's health problems, says Wales' new chief medical officer.
But Dr Ruth Hussey said she remains committed to turning around the system and encouraging people to live healthier lives.
She said communities needed to be "empowered" to becoming healthier.
Dr Hussey, from Llanrwst in Conwy, replaces Dr Tony Jewell, who retired in August.
Speaking as she began the job, Dr Hussey said tackling the health gaps between the richest and poorest communities was a priority.
"Finding ways in which we can improve the outcomes - that's what drives me everyday - that's what I'm passionate about - that we see results."
Last year, Dr Jewell warned in his annual report of stark health inequalities across Wales.
The gap in average life expectancy in the most and least deprived communities is 19 years for men and 18 years for women.
Dr Hussey, who was previously director of public health for the north-west of England, said more could be done to "shift the pattern of poor health" and give people a "fair chance of a long and healthy life".
"All my working life it's that sort of differential that has driven me on every day to think about why it is that some people don't have a fair chance of having a good long life, we have to reverse that," she said.
'Momentum'
Dr Hussey insisted there was no simple solution to making it easier for people to eat well and exercise.
She also said Wales should aim to be a tobacco-free zone.
"I think it's about creating a momentum that says this isn't a part of our life in Wales - creating the sense it isn't normal to be a smoking population," she said.
Dr Hussey said NHS services needed to adapt to 21st Century needs.
"There's an ageing population, and people's need are changing so services need to adapt and change, and it's inevitable as technology advances in the 21st Century that services need to be organised a little bit differently," she said.
All health boards in Wales are currently in the process of reshaping the way services are delivered.
'Essential change'
The first in a series of public meetings is being held on Tuesday on plans to restructure the NHS in north, mid and west Wales. Betsi Cadwaldr and Hywel Dda Health Boards are consulting on proposals that could see some community hospitals close and other services centralised.
But the proposals are controversial. Campaigners said they will lead to a downgrading of services in a number of hospitals.
But Dr Hussey said change was essential.
"The local community [needs] to recognise that not all services can be offered in every community, but that the services that are most needed are readily available in communities.
"I know the health boards are listening to communities and involving them in shaping those services, there is a strong debate and and an involvement to help find those solutions."