Dr Martin Coleman's inquest told of Snowdonia avalanche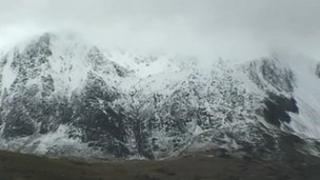 An experienced mountaineer was swept to his death in an avalanche in Snowdonia, an inquest heard.
Dr Martin Coleman, 36, of Bodfari, Denbighshire, stepped on a cornice which gave way beneath him on Y Garn in blizzard conditions.
The inquest at Caernarfon heard how a young woman also fell through the snow into a gully but was saved by her ice axe in the incident last December.
Neuroscientist Dr Coleman's death was recorded as accidental.
Coroner Dewi Pritchard-Jones said Dr Coleman was a very experienced mountaineer and well-equipped but he slid a considerable distance and struck his head causing his instant death.
A member of Ogwen Valley Mountain Rescue Team said a mountain guide who was also on the peak in the Glyder range should be commended for taking a "calculated risk" in descending the terrain to reach the doctor.