Save the Children finds Welsh children worry over bills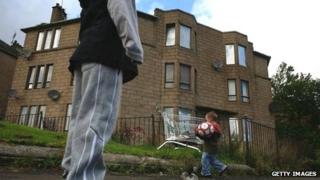 A survey shows 53% of Welsh children in low income households are worried their parents are finding it hard to pay for essentials such as food and clothing.
And 34% of parents on low incomes say they skip meals to feed their children.
The charity Save the Children, best known for helping some of the world's poorest families, has launched its first appeal to help UK children.
In Wales, a total of 140 children and over 700 parents took part in two UK-wide surveys for the charity.
The findings come after a separate study in June found that the proportion of children in poverty in Wales has fallen to its lowest level since the mid-1990s.
The Welsh government has said it is committed to eradicating child poverty by 2020, although the Children's Commissioner expressed doubts in May about whether the target could be met.
James Pritchard, Save the Children's head of Wales, said the scale of the problem should not be under-estimated.
"The Welsh government has already foreseen a rise in child poverty in Wales next year so there is no denying that now is the time to say enough is enough, we want better for our children," he said.
'Unfortunately'
"Parents are making every effort to get by and protect their children from money worries but you cannot hide a lack of food on the table or no warm winter coat or shoes for your children."
The study draws on Institute of Fiscal Studies (IFS) figures which estimate that there are 3.5 million children living in poverty in the UK and predict a steep rise in the numbers in coming years.
The charity defines living in poverty as having a family income of less than £17,000 a year.
The money raised from the appeal will help fund grant schemes.
Mother of two, Krista Lane, 25, from Cardiff received some storage for her son's bedroom and toys for her daughter through Save the Children's Eat Sleep Learn Play programme.
"Unfortunately when you are on a tight budget learning toys and books tend to go down the list of priorities as living cost for food and bills have to come first," she said.