Dyfed-Powys Police increase community support officers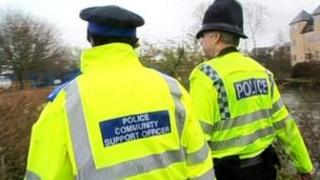 The number of community support officers (PCSOs) in Dyfed-Powys has doubled, taking the total to 144.
The force says it received Welsh government funding for an additional 74 PCSOs.
This month more powers have been given to the PCSOs, which include allowing them to detain suspects until police officers arrive.
Chf Supt Steve Hughson said the changes have been taken to strengthen officers' roles in the community.
PCSOs were launched in England and Wales in 2002 with the aim of providing a visible presence and crime prevention.
They are given approval to deal with some offences, under powers granted by a chief constable, to support frontline policing.
Dyfed-Powys Police says it wants PCSOs working in police neighbourhood teams to use the new powers to tackle a "small minority of people who cause the greatest harm".
Mr Hughson, head of the force's territorial policing, said: "It is important that we focus our attention on this small group of people in every community, to reduce crime, tackle anti-social behaviour and provide reassurance to the wider law abiding population."
He said the most significant change gives PCSOs the power to detain people suspected of criminal offences, until the arrival of a police officer.