Police Federation claims public opposes service cuts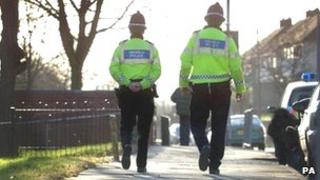 Rank-and-file police officers in north Wales are calling on the UK government to re-think its cuts programme.
It follows a YouGov poll in which seven in 10 people questioned thought cuts to police funding were affecting frontline services.
Richard Eccles, secretary of the North Wales Police Federation, said: "The public understands what we are saying and are rightly concerned."
The Home Office said frontline services were being protected despite savings.
'Public at risk'
Mr Eccles said: "This survey confirms that the majority of the public agree with what the Police Federation has been saying all along.
"The front-line is being affected; the public understands what we are saying and are rightly concerned. Yet the government is still intent on denying this is the case.
"We expect to take our share of the necessary public spending cuts, but the additional reductions we are facing are having an impact on our ability to deliver the level of service the public expects.
"Our members are concerned the cuts are putting the public at risk and now we know that the majority of the public share their concerns."
The Home Office responded by denying that frontline policing had been adversely affected.
"As a service spending £14bn a year it is right for the police to make their contribution to reducing the record budget deficit," said a spokesman.
"Her Majesty's Inspectorate of Constabulary has been clear that forces are making savings while the frontline of policing is being protected overall.
"Crime is down, victim satisfaction is improving and the response to emergency calls is being maintained."
Nearly 3,000 people across England and Wales were questioned by YouGov in the survey carried out for the Police Federation.