Exam board appeals for agreement in GCSE regrade row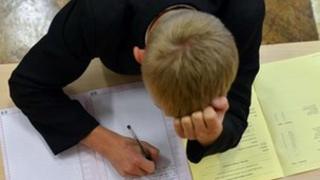 An exam board says it has been put in a "difficult and unexpected" position after Wales' education minister asked for English GCSEs to be regraded.
The WJEC said the demand had implications for thousands of students in Wales and England.
Welsh Education Minister Leighton Andrews says hundreds of pupils had been the victims of an "injustice".
It follows a row about students being awarded lower grades than expected.
Mr Andrews said he wanted GCSE English papers regraded after publishing the findings of a review by regulatory officials on Monday.
The Welsh government is the exam regulator for Wales, while in England exams are regulated by Ofqual.
Ofqual has refused to order exam boards to regrade this summer's English GCSEs and UK Education Secretary Michael Gove has declined to intervene.
Mr Andrews said he would give the WJEC board a "reasonable time" to comply, but that he hoped both sides would reach a "resolution" on Tuesday. He can force the board to act if it refuses.
The board says it was acting on a joint requirement by the Welsh government and Ofqual to make the grade C boundary for GCSE English "more severe" than it had proposed this year.
The WJEC sets exams on both sides of the border, with 34,000 taking its English language GCSE exams in Wales this summer and 84,000 in England.
'Instructions'
In a statement it said: "We find ourselves in a difficult and unexpected position, which has implications for all our candidates in England and Wales.
"In the summer we acted on joint instructions from regulators to adjust our GCSE English Language awards downwards at grade C, in order to ensure 'comparable outcomes'.
"We now find one regulator confirming that the decision made was correct, and another asking us to regrade, reversing the previous joint decision."
It added: "As an urgent next step, we have asked the regulators to explore the possibility of agreeing a common view so that we can act to remove the uncertainty for schools and colleges in England and Wales, and ensure a coherent and rational way forward for all our candidates."
Asked on BBC Radio 5 Live whether the Welsh government had asked the WJEC to make the grading harder, Mr Andrews said: "Not in that simple way, because that's not the way the process takes.
"Let's be clear about what actually happened rather than what the WJEC say."
With separate exams regulators for England, Wales and Northern Ireland, he said there had to be a "negotiated consensus" on setting grade boundaries.
He added: "It's very clear over the last 18 months Michael Gove has made a series of announcements about GCSEs and about A Levels without reference to the fact they are three country qualifications, he's not discussed his statements with me - but this is about fairness to individual candidates in Wales.
"That is why I have asked the WJEC to regrade the English language results this summer, I don't think they were fair."
Mr Gove's department declined to comment, while the Welsh Conservatives accused Mr Andrews of political game-playing.
The percentage of pupils from Wales gaining an A* to C in GCSE English language fell from 61.3% in 2011 to 57.4% this year.
The Welsh government says it expects "several hundred" candidates will now get higher grades.
Ofqual acknowledged grade boundaries had changed part way through the year, but stood by the new June grading system.
Its head Glenys Stacey told MPs on the Commons Education Select Committee on Tuesday there had been concerns that pupils in Wales were performing at a lower level than in England, and that this had caused difficulties in setting common grades with the WJEC exam board in Wales.