Hillsborough victim's mother thought of suicide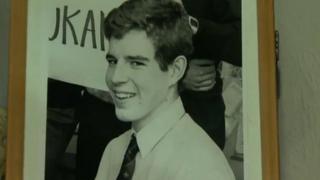 A grieving mother fighting for justice for her son who died in the Hillsborough disaster was almost driven to suicide, she has told BBC Wales.
Joan Hope, from Flintshire, said she planned to throw herself under a train after being told South Yorkshire Police would never be prosecuted.
A report reveals police failed to save lives, then tried to blame fans.
Mrs Hope's son, John McBrien, 18, died along with 95 others after a crush at Sheffield Wednesday's ground in 1989.
After the disaster, Mrs Hope said she had a meeting with the solicitor of a police officer from South Yorkshire Police.
"I was told nothing will come of this because we can't prosecute the police. It's an impossibility," Mrs Hope said.
"I felt like throwing myself under a train that day. I was going to because I was told go back to the hills in Wales."
The report has been compiled by the Hillsborough Independent Panel, which scrutinised more than 450,000 pages of documents over the last 18 months.
Prime Minister David Cameron apologised and said police had failed to do enough and had also tried to blame Liverpool fans.
After being told the findings in the report, Mrs Hope, from Holywell, said: "I was disappointed because I was hoping for a statement saying the police were guilty. That's what I wanted - where the blame should lay."
She added: "But I'm not disappointed about the inquest and the cut-off point, 3.15pm.
"Now, I couldn't deal with the facts about John but I do remember them saying he was pronounced dead at 4pm, which was quite a long time after the 3.15pm.
"Lies, more lies - a catalogue of blunders that happened."
However, Mrs Hope felt progress had been made in the fight for justice for her son and the 95 others who died.
"It's a step forward but not enough. It needs to be dealt with now and get the answers quickly - not in another 23 years.
"It's a long time out of your life to fight for justice when you've done nothing wrong."
Mrs Hope wants South Yorkshire Police prosecuted over the tragedy.
"It's not vengeance, it's justice," she said.
"And why shouldn't we try anything to get justice - it's our right, isn't it? What kind of country are we living in if we don't have justice?
"We lost precious, very precious, people that day and we should have been told the truth straight away."
Mrs Hope said her life changed forever the day her son died.
"It's destroyed me and yet I had to fight and go through all of this suffering - I felt as if I was letting John down if I didn't.
"That was my work.
"I couldn't have ever wished as anyone to be as wonderful as him. I really loved him. It's impossible to put into words.
"It's as if your heart has been taken out of your body. I will never stop grieving for him."