EADS and BAE Systems merger 'great news for Wales'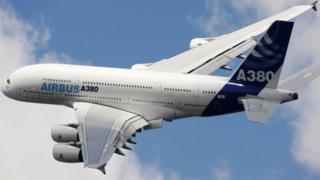 A potential merger between the owner of one of Wales' biggest employers and UK defence contractor BAE Systems has been hailed as "great news for Wales".
Talks are ongoing between BAE Systems and EADS, which owns Airbus, and employs 6,500 people at its Broughton factory in Flintshire, where wings for the A380 Superjumbo are made.
It also owns defence company Cassidian in Newport, which employs 1,000 people.
The Aerospace Wales Forum welcomed the move for Wales and the UK.
BBC Wales economic correspondent Sarah Dickins, said: "In terms of Wales, EADS have 6,500 at Airbus, and they have about 1,000 people at Cassidian.
"At both of these, order books are not just doing well, they are positively bulging."
'One group'
She said she had spoken to the Aerospace Wales Forum, where a spokesman said: "This is great news for the UK if this merger happens, and this is great news for Wales."
BAE said in a statement that "both companies would operate as one group by means of equalisation and other agreements but would be separately listed on their existing exchanges".
In a potential tie-up, BAE would own 40% and EADS 60% of the new firm.
Speculation that talks were ongoing sent BAE shares up 8% on Wednesday, while shares in EADS dropped 5.6%.
BAE and EADS said that a merger "offers the prospect of significant benefits for customers and shareholders of both companies".
'Discussions'
Under the code of the UK's Takeover Panel, the two parties must announce a decision on the outcome of their talks by 17:00 BST on 10 October.
"BAE Systems confirms its intention to request an extension to the deadline from the panel if it and EADS are still in discussions at that time," it said.
BAE usually pays shareholders a higher proportion of its earnings as a dividend than EADS.
As a result, if the merger were to go ahead, EADS would pay £200m to its shareholders before completion.
BAE and EADS's normal dividend for the current year would be unaffected.