Aamir Siddiqi: Defendant seen on CCTV 'spending proceeds'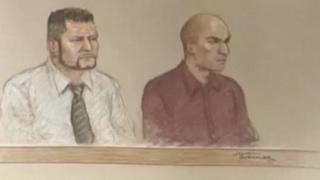 The jury in the trial of two men accused of murdering a teenager in a bungled contract killing have been shown CCTV footage of one defendant allegedly spending the proceeds.
Aamir Siddiqi, 17, was stabbed to death at his home in Cardiff in April 2010.
Swansea Crown Court was told Jason Richards, 38, and Ben Hope, 39, killed him after going to the wrong address.
Both deny the murder and the attempted murder of the student's parents, who tried to defend their son.
The court has heard how Mr Richards and Mr Hope had been paid by a businessman, angry because a property deal had collapsed, to kill his chosen victim in Shirley Road.
But the pair were said to have gone by mistake to the Siddiqi family home around the corner in Ninian Road instead.
Patrick Harrington QC, prosecuting, said Aamir Siddiqi died from three stab wounds, one of which was five inches deep.
Mr Harrington said it was likely that a wide-bladed knife had been used in the attack.
The court was told how a passer-by heard screaming and saw Aamir's parents crying out for help. In the hallway he saw Aamir lying in the pool of blood.
As he was phoning the emergency services police arrived and tried to revive the teenager.
Mouth-to-mouth resuscitation
They packed his wounds, started chest compressions and mouth-to-mouth resuscitation.
Paramedics arrived 20 minutes after the 999 call and took over, continuing with attempts to save Aamir's life. But he was pronounced dead at the University Hospital of Wales.
Mr Harrington said Mr Richards and Mr Hope were paid following the killing, but before it emerged that they had killed the wrong man.
He described events as CCTV footage of the two men in Cardiff was shown to the jury.
Mr Harrington said Mr Hope had been given £1,000 to kill someone and spent it the next day.
The jury saw CCTV footage said to be of Mr Hope taking the envelope of cash to a shop to buy trainers.
Mr Harrington told the jury the shopkeeper said it was strange for someone to have so much money in an envelope on a Sunday.
Later footage was said to show Mr Hope taking a taxi to PC World in Newport Road, Cardiff.
'Heroin-fuelled killers'
The driver was asked to wait while he hurriedly bought a laptop computer for just under £700, giving his name as Smith.
The prosecution said Mr Hope was later seen wearing the new trainers, and claim that two days after buying the laptop he was seen selling it for £200 at a second-hand shop in City Road, Cardiff.
Aamir, a student hoping to study law at Cardiff University, had answered the door to face what the prosecution called a "cowardly and brutal attack" by two "heroin-fuelled killers".
The victim's 68-year-old father, Iqbal, and 55-year-old mother, Parveen, tried to stop the attack but were themselves stabbed, the court was told.
The trial, which the court heard was a re-trial after the jury in a Cardiff Crown Court case last year was discharged, is expected to last for up to six months.
The case continues.