Gleision mine deaths: Prayers for miners and families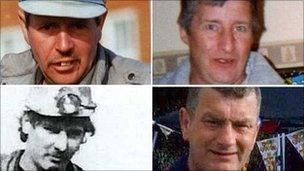 Prayers are being said across Wales in memory of four men killed in the Gleision mining disaster.
The Church in Wales said the miners' families would be remembered in all its churches on Sunday, a day after the first anniversary of the disaster.
Charles Breslin, Philip Hill, Garry Jenkins and David Powell died when the Swansea Valley mine flooded.
Other low-key commemorations have been held over the weekend to mark the anniversary.
Asked what people should be thinking about on the anniversary, the Reverend Peter Lewis, from the Vale of Neath parish, told BBC Radio Wales: "Remembering those people who are still affected.
"Those who survived - and the families - they just wish they weren't... remembering anything today at all."
He said South Wales Police were continuing to investigate the circumstances of the tragedy, in liaison with the Health and Safety Executive.
The four men died after the Gleision drift mine flooded on 15 September 2011 after a retaining wall holding back a body of water failed.
Three other miners managed to escape as the flood engulfed the drift mine. Two then helped in the attempt to save their colleagues, while another was taken to hospital.
A public appeal raised more than £1m, which is being shared between the families of the miners, with trust funds set up for the four children who are under 18.
A concert was held underground at Big Pit mining museum in Blaenavon on Thursday to remember the victims of colliery disasters.
Tributes were paid to the victims and rescue teams at the miners welfare brass band competition in Porthcawl on Saturday.
Related Internet Links
The BBC is not responsible for the content of external sites.