Wales 'will not rush' GCSE change, says Welsh government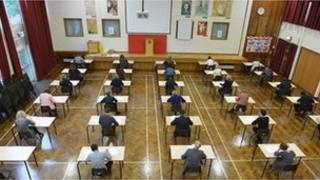 The Welsh government insists it will not rush into a decision about the future of GCSEs in Wales, despite a new exam being unveiled in England.
Westminster Education Secretary Michael Gove is to give details about the new single exam qualification on Tuesday to replace GCSEs across the border.
It will be introduced in 2015.
But Welsh ministers are waiting to hear the findings of a review, due in November, before making any possible changes.
Mr Gove wants to replace GCSEs with tougher exams as he believes pupils in England have been slipping behind high-achieving nations such as Finland and Singapore.
An end to the modules and continual assessment which are a key component of GCSE exams has already been announced.
Tuesday's briefing will also confirm that Mr Gove has dropped plans for a two-tier exam system with more academically-able students taking an O-level type exam with the rest taking an easier test.
The new exam would be introduced in England in 2015 with the first students sitting the tests in 2017.
The Welsh government is consulting on whether new qualifications for 14 to 16-year-olds should replace GCSEs.
It said that despite the announcement of changes in England, ministers in Wales would not be rushed into a decision.
"As always, our priority will be to ensure that the best interests of our learners are the focus of any decisions that we take," a spokesperson said.
"In Wales we will be taking an evidence-based approach through our review of 14-19 qualifications.
"This is a decision that cannot be rushed and Welsh ministers are committed to not making significant changes to GCSEs until after the outcomes of the review are known."
GCSE controversy
Welsh Education Minister Leighton Andrews has previously said that whatever comes from the review, Wales will not return to O-level-style exams.
The changes in England come amid controversy over this year's GCSE exams in English and whether they were too harshly graded.
This weekend, examiners in Wales are regrading English papers taken under the WJEC examining board, after Mr Andrews ordered a review of results.
Mr Gove attacked that decision, saying it would "undermine confidence" in the value of the qualifications obtained by the students involved.