GCSEs: Pupils in Wales wait for regrading results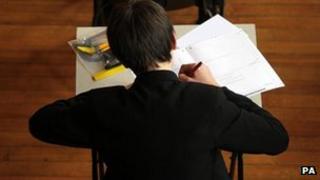 The results of the regrading of hundreds of pupils' GCSE English language exam papers in Wales will be issued later.
Cardiff-based examining board WJEC says they will be issued by 17:00 BST on Tuesday, and it is believed students will get them on Wednesday morning.
Welsh Education Minister Leighton Andrews' regrade decision began a row between the Welsh and UK governments.
The gulf has grown with UK government plans to reform GCSEs in England.
Mr Andrews has said grade boundaries had been set in a way that was unfair to candidates.
English subject specialists, experts in research and statistics, and IT systems operators worked over the weekend to undertake the regrading.
The focus has been on the C to D grade boundary. Lower grades could also be affected, but the WJEC confirmed that the process would not result in anyone being worse off than before.
The proportion of pupils who received a grade C for English language this summer was down 3.9% on last year.
Some 34,000 students in Wales took the WJEC's English language paper in the summer. The Welsh government said it now expected several hundred pupils to receive improved grades.
The results of 84,000 English students who took the same paper will not be regraded, meaning a C in Wales could be equivalent to a D in England.
On Monday Westminster Education Secretary Michael Gove revealed that GCSEs in core subjects in England will be replaced by a qualification called the English Baccalaureate Certificate (EBC).
'Progressive reforms'
A single end-of-course exam and one exam board for core subjects will be introduced.
Mr Gove hit out at his Welsh counterpart, telling the House of Commons: "As someone married to a Welsh girl it grieves me that the Welsh education system under Labour has gone backwards.
He added: "It grieves me even more that every objective assessment of what's happened to education in Wales under Labour shows that education in England has improved more quickly and more effectively."
Mr Gove challenged Mr Andrews to "embrace the progressive reforms that this coalition government has put forward".
Mr Andrews has said that he will make his own decision on GCSEs in Wales in November.
He described Mr Gove's plans as "a backward step", saying there was still support within Wales for GCSEs.
Bill Mulry, who taught GCSE and A-level age pupils in Merthyr Tydfil for 23 years, said he believed GSCEs were far better than a three-hour exam at the end of two years.
"There's no example in the real world where someone is judged on three hours over 24 months," he said.
"It seems absolutely ridiculous to me. It's a regressive, backward step."
He added that he felt GCSEs tested a wide range of skills.
The Welsh government is the exam regulator in Wales, while in England the job is done by Ofqual, which has said it does not see the need for a regrade.