Aamir Siddiqi: Father's horror at son's fatal stabbing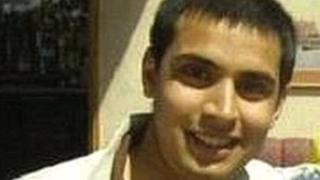 The father of a teenager stabbed to death in an alleged bungled contract killing says the horror he witnessed was enough to drive a person mad.
Aamir Siddiqi, 17, was attacked at his Cardiff home in April 2010.
Jason Richards, 38, and Ben Hope, 39, deny his murder and the attempted murder of the A-level student's parents, who tried to defend their son.
Iqbal Ahmad told police life had "lost its purpose" after Aamir's death, Swansea Crown Court heard.
The prosecution claims Mr Richards and Mr Hope had been paid by a businessman, angry because a property deal had collapsed, to kill his chosen victim in Shirley Road in the Roath suburb of Cardiff.
But the pair were said to have gone by mistake to the Siddiqi family home around the corner in Ninian Road instead.
In a video interview played to the jury, Mr Ahmad told police how the attack kept replaying in his head like a film.
He said he and his wife Parveen were devastated and that the incident was of the kind sufficient to make a person mad.
Mr Ahmad said that because his daughters were much older, he and his wife had focused entirely on their son in later years.
"Once he had gone we were in a very difficult position," said 68-year-old Mr Ahmad, who is retired.
"Life has become very empty. All we were doing was for Aamir."
He said that life had "lost its purpose", adding: "It has made us very unsettled and unhappy, we are trying to come to terms with it."
In a taped interview played to Swansea Crown Court Aamir's mother, Parveen Ahmad, spoke of her "beautiful son" and told of the "shocking experience" of the day he was killed.
Mrs Ahmad said there had been a happy atmosphere at the home on the day of the incident.
She said her husband had been singing a song when she noticed someone was at the front door.
The court has heard that Aamir had been upstairs studying for his A-levels when the doorbell of the family home rang.
He was expecting his Koran teacher to call and volunteered to answer the door.
"I never imagined what was happening outside of the door," said Mrs Ahmad.
The court heard that balaclava-wearing men stormed in the home holding daggers above their heads
Mrs Ahmad said she at first thought they were just trying to scare Aamir or that they were going to rob the house, but she quickly realised the men were attacking her son.
"I said: 'No, this is real, it is not a drama'", she said.
The court heard that 55-year-old Mrs Ahmad pulled on the jacket of one of the attackers and said "leave him alone".
The jury has heard that as soon as the door opened, the teenager was pushed back by the men in balaclavas who started to stab him.
Mrs Ahmad said of the attack: "It was so scary. It was a shocking experience and it happened so quickly.
"It seemed either like they were professionals or they planned it."
Mrs Ahmad, paying tribute to her "beautiful son," told police that after having three girls she always wanted a boy. She described Aamid as a "gift" and a "blessing".
Aamir's ambition was to study law and politics at university and then decide whether to pursue a career in law or to take the civil service exam.
Mrs Ahmad said he "could have been brilliant" in his chosen career and described him as "kind, humorous, fun-loving and caring".
Speaking in the police interviews, Mr Ahmad described his terror and said he could not say how many times his son was stabbed.
He told detectives it all happened in seconds and Aamir "didn't say a single word".
Mask slipped
The trial has heard how Mr and Mrs Ahmad were left bleeding badly after trying to tackle the killers.
Mr Ahmad said that as he tackled one of the men his mask slipped an inch away from his eye and he saw his skin colour which he described as "like Spanish people".
The jury was also shown video of Aamir's 55-year-old mother Parveen being interviewed by police.
She said she was close to the door and could have opened it, but Aamir volunteered.
Mrs Ahmad said she initially thought the attack was a joke and that she then thought it was a robbery.
Bus as soon as she realised what was happening she tried to pull one of the men off her son. He swiped at her with the knife .
When the attackers left she dialled 999 and ran out into the road wait for the ambulance.
As she realised the full horror of what had happened she said she collapsed saying "nothing is valuable now" .
She told the police: "My main concern was my son. I didn't chase them, I wish I had".