Aamir Siddiqi: Mum on opening door to 'bungling hitmen'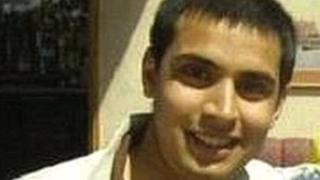 The mother of a teenager stabbed by two men accused of carrying out a contract killing on the wrong person, said her son opened the door to his killers believing it was the local imam.
Aamir Siddiqi, 17, was attacked at his Cardiff home in April 2010.
Jason Richards, 38, and Ben Hope, 39, deny murder and the attempted murder of the A-level student.
Swansea Crown Court heard Parveen Ahmad say her son believed the imam was at the door to give him a Koran lesson.
On Wednesday, jurors were shown the recording of an interview between South Wales Police and Mrs Ahmad in which she said her family "do not have any ememies".
She told how she recalled someone at the door and thought it was the imam putting a square cloth on his shoulder.
"It did not realise it could be a mask," she said.
"I so regret now saying it was the imam."
Aamir, she explained, had been upstairs in his bedroom awaiting the arrival of the imam for a Koran lesson.
He came downstairs on hearing the doorbell and opened the door, the court heard.
There he endured what the prosecution described as a cowardly and brutal attack by two heroin-fuelled killers wearing balaclavas.
The prosecution claims Mr Richards and Mr Hope had been hired by a businessman.
It is claimed he was angry because a property deal had collapsed and he wanted to kill another man, who lived in Shirley Road in the Roath suburb of Cardiff.
The pair - previously described by the prosecution as showing "staggering incompetence" - were said to have gone by mistake to the Siddiqi family home around the corner in Ninian Road.
Earlier in the week, the jury heard Aamir's father Iqbal Ahmad recalls how after opening the door to the men, they pushed their way into the family home and attacked the teenager "indiscriminately", without seeing who their victim was.
"As soon as the door opened, they attacked," he said.
The court has heard how both parents were slashed as they put up a fierce and frantic fight to try to stop the men repeatedly stabbing Aamir.
"This scene I will live with all of my life," Mrs Ahmad said.
Mrs Ahmad also described in the interview with police, the joy Aamir's birth had brought to the family.
She explained how she and her husband had already had three girls and that her only son was born 17 years into her marriage "after a lot of prayers".
"We always wanted to have a boy so we thanked God. We were very, very happy," she added.
She told how the promising A-level student showed signs of being gifted from an early age.
"When he was about 4 or 5 we realised he had a special quality because of his memory," Mrs Ahmad said.
"He was amazing," she added. "Many teachers told me 'It is a pleasure to teach him',".
The jury is due to spend Thursday and Friday on site visits to relevant locations.
The trial continues.