New teachers urged to take Masters in Education course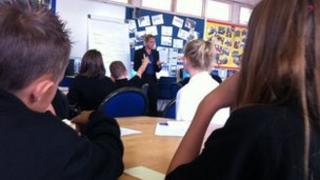 New teachers in Wales have been urged to take a new postgraduate course which the education minister claims will help drive up standards in schools.
The Masters in Education programme (MEP) will focus on skills for tackling literacy, numeracy and behaviour.
Leighton Andrews said the qualification would put Wales "at the forefront of teacher professional development".
Unions have welcomed the idea but are concerned about the impact on newly qualified teachers' workloads.
'Experienced and confident'
The masters programme is the latest initiative to tackle what the Welsh government sees as poor standards in basic skills in schools.
It comes 18 months after Wales was shown to be slipping down a worldwide league table of assessments for 15-year-olds.
Wales was ranked lowest of the UK countries in the Programme for International Student Assessment (Pisa).
Mr Andrews said the results were "unacceptable" and everyone involved should be "alarmed".
He launched a national literacy plan in May, including reading tests, and said he expected all teachers to be teachers of literacy in the classroom.
New teachers will take the three-year course around their day-to-day jobs, and draw on their own practical experience in the classroom with support from mentors.
Course organisers say newly-qualified teachers will take modules on subjects such as behaviour management and leadership but should not need to attend lectures.
It is thought that as many as 1,000 new teachers may start the course this year.
Speaking ahead of a visit to Chepstow to meet newly-qualified teachers, Mr Andrews said: "In order to raise standards and performance in schools across Wales we need to be developing highly skilled teachers, who are experienced and confident in the classroom, and are able to deliver effective teaching as a result."
The new course is being run by an alliance of Cardiff, Bangor and Aberystwyth Universities along with the Institute of Education at the University of London.
A new Learning Wales website is being launched on Monday to support teachers taking the masters programme.
'Unanswered questions'
Teaching unions have welcomed the idea of a masters' qualification but expressed concern about the possible extra workload involved.
Owen Hathway, Wales policy officer for the National Teachers' Union (NUT), said: "There are questions about how practical it would be given the time constraints and pressure on teacher workloads."
Rex Phillips, Wales organiser for the National Association of Schoolmasters and Union of Women Teachers (NASUWT), said: "We support it in principle but there remain many unanswered questions, such as the support available to those newly qualified teachers."
Hayden Llewellyn, deputy chief executive of the professional standards body, the General Teaching Council for Wales, said: "There is an ambitious agenda for improvement in our schools, and we must invest fully in the skills of individual teachers to achieve that aspiration."