Aamir Siddiqi: Cardiff stab scene 'worst seen' by officer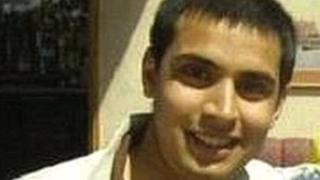 A police officer has described the scene as the worst he had come across when a student was stabbed in an alleged case of mistaken identity.
Sgt Kee Wong told a murder trial he and another officer tried to save Aamir Siddiqi, 17, who died after an alleged bungled contract killing in April 2010.
Another officer told Swansea Crown Court of her concern at a wait for an ambulance for the Cardiff schoolboy.
Jason Richards, 38, and Ben Hope, 39, deny murder and attempted murder.
The jury heard how Sgt Wong performed mouth-to-mouth resuscitation on the A-level student and another officer did CPR while an ambulance was awaited.
"I put gloves on and felt for a pulse in Aamir's neck," said Sgt Wong. He said officers also put bandages onto Aamir's wounds.
"I had just come from doing CPR on another male and to see a young lad on the floor and trying to save him, yes, I was affected," he told the court.
The court heard that it took some 20 minutes for an ambulance to get to the scene of the stabbing in Ninian Road, Roath, around half a mile from the city's University Hospital of Wales.
The jury was told, during cross-examination by John Charles Rees QC, defending for Mr Richards, that a traffic officer had gone to the hospital to make sure an ambulance was coming.
Sgt Wong confirmed he had heard of that afterwards.
He also said he could recall another officer shouting over the radio that an ambulance was required immediately.
Another police officer, Teresa Sullivan, described how she was asked by Sgt Wong to get a first aid kit which she then took into the house to help officers treat Aamir.
"I could see that they were still trying to work on Aamir," she said.
Large wound
Ms Sullivan, who was performing the role of sergeant on the day of the stabbing, said blood was everywhere but officers could not work out where Aamir was bleeding from.
She said a decision was taken to turn him over which allowed them to see a large wound underneath him.
"I opened up the first aid box and tried to get as much gauze pad to stem the bleeding," she said.
The jury was also shown pictures of the blood-stained floors inside the house.
Ms Sullivan said she was "absolutely" concerned by the absence of an ambulance.
She said she rang the control room about the situation.
"I said: 'It is not good enough'. I said I wanted one straight away," Ms Sullivan told the court.
In cross-examination by Mr Rees, Ms Sullivan said that in her opinion Aamir was already dead.
However she added: "It is not my job to say that, it is for the paramedics or the hospital."
Attacked 'indiscriminately'
The court earlier heard that the teenager's parents were left bleeding badly after trying to tackle their son's balaclava-clad killers.
Aamir Siddiqi's father, Iqbal Ahmad, told the jury how his son's killers pushed their way into the family home and attacked the teenager "indiscriminately", without seeing who their victim was.
The prosecution claims Mr Richards and Mr Hope had been paid by a businessman, angry because a property deal had collapsed, to kill his chosen victim in Shirley Road, Roath.
But the pair were said to have gone by mistake to the Siddiqi family home around the corner in Ninian Road instead, showing "staggering incompetence".
The jury has seen CCTV footage showing Mr Hope allegedly spending the proceeds of the crime in a shop.
Mr Richards and Mr Hope deny murdering Aamir Siddiqi and also attempting to murder his parents.
The trial continues.