GCSE regrading fairer, Leighton Andrews tells AMs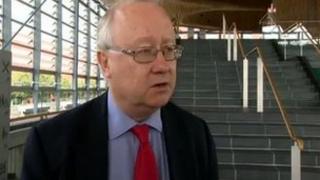 Education Minister Leighton Andrews says the Welsh government acted swiftly and decisively to address "injustice" over GCSE English language results.
Mr Andrews was speaking to the assembly for the first time since the row broke with the UK government over regrading.
Nearly 2,400 pupils in Wales who took English with the WJEC received better results after a review.
Mr Andrews defended his actions to AMs, and said only an elected representative had the authority to order a regrade.
The row follows a decision by exam regulators in England and Wales - Ofqual and the Welsh government respectively - to raise the boundary for a pass grade in GCSE English Language in June as it was thought it had been too easy to pass in January.
Mr Andrews had accused UK Education Secretary Michael Gove of putting undue pressure on exam boards to make exams tougher.
Mr Gove denied the claim and has refused to order a regrading of GCSE English language exam papers for pupils in England, including those who sat the WJEC paper.
The Welsh minister ordered a regrading of papers for around 34,000 pupils in Wales, with nearly 2,400 receiving better results.
Of those, more than 1,200 who had previously failed the exam were upgraded to a C grade pass.
Speaking in the Senedd chamber on Tuesday, Mr Andrews told AMs he ordered a regrade of GCSE English language papers because his officials disagreed with the methodology for changing the grade boundaries.
He said: "We have acted swiftly and decisively to address an injustice for GCSE English language candidates.
"The Welsh regulatory system has worked," he added.
"We will now look forward to the forthcoming review of qualifications to determine the future of 14-19 qualifications in Wales."
The announcement of plans to replace GCSEs in England with a baccalaureate exam has prompted further concern about a possible divergence in education systems between the two nations.