Mark Colbourne: Paralympic champion welcomed home in Tredegar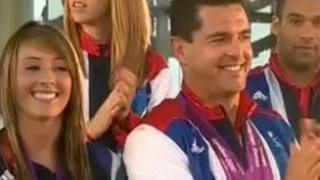 Paralympic cycling champion Mark Colbourne has been given an official hero's welcome in his home town.
An open top bus ferried the Paralympian through the streets of Tredegar, Blaeanu Gwent, before he was awarded the freedom of the town.
It is only the third time the town council has awarded the accolade.
Colbourne, 42, claimed Wales' first gold of the 2012 Paralympic Games in the C1 3km individual pursuit, setting a new world record.
The cyclist had suffered a broken back and lower leg paralysis after a paragliding crash.
'Historic occasion'
The mayor, Andrew Cotton, said the town wanted to give Colbourne a fitting tribute for his tremendous achievement.
"This is an historic occasion which will live on in the memories of many people in Tredegar for years to come," Mr Cotton said.
Town council leader Malcolm Cross called Colbourne a "fantastic role model who deserves recognition for his breathtaking performances at the 2012 Games."
There is hope in the town too that his achievements will inspire a future generation.
Blaenau Gwent AM Alun Davies said: "Mark's extraordinary achievements have focused the sporting world's attention on our community and will undoubtedly inspire a future generation of able bodies and non-abled bodied sporting champion."
"I sincerely hope that the incredible skill and sportsmanship shown by our Paralympians and Olympians receives the recognition they truly deserve by appearing on the forthcoming honours list," he added.
The event started at 11:00 BST on Saturday at the Bevan Memorial Stones, at Bryn Serth.
The open top bus travelled down Beaufort Road then along the bypass to the Corwen roundabout down through Ashvale and Sycamore Avenue and on through Stockton Way (the Dram Road).
There was a loop of the one-way system through the underpass at Gwent Shopping Centre, and along Commercial Street with a photo-stop at the postbox painted gold in his honour.