Radio 2 gardener Terry Walton in prostate cancer warning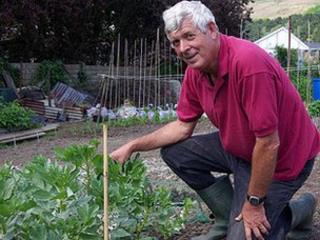 BBC Radio 2's resident gardener Terry Walton has revealed that he is suffering from prostate cancer.
Mr Walton, 66, from the Rhondda, was diagnosed a month ago and urges men to look out for the early warning signs.
While the gardener said he was hopeful of making a full recovery, he said his future could have been much more certain had it been detected earlier.
"Women over a certain age can have mammograms, so why no screening for prostate cancer?" he asked.
Tumour
Prostate cancer is the most common male cancer in the UK, accounting for almost a quarter of male cancers.
Each year, nearly 35,000 men are diagnosed and more than 10,000 die from the disease.
Mr Walton told BBC Wales that he went to his GP earlier this year after spotting blood in his urine.
"Back in February I went out to the pub with a few of my former workmates, and when I came home I constantly needed the loo," he said.
"I didn't think that much of it, because I'd been drinking beer all night, but when I looked down at the pan, I could see that there was blood.
"Like most people I vaguely knew the symptoms of prostate cancer, although I hadn't stopped to think for a minute that they could apply to me."
After consulting his GP, tests revealed that Mr Walton's tumour was at stage three, out of four.
Doctors have given him a 60% chance of making a full recovery, although the gardener now faces a year of drug and radiotherapy.
Mr Walton urged other men not to ignore the early signs, and to seek advice from their doctor as soon as possible.
Symptoms
Age is said to be the major risk factor, with men over 50 having twice the risk of those under that age, while men over 70 have an 80% chance of developing prostate cancer.
The earliest symptoms include trouble passing water or very frequent trips to the toilet; and less commonly, erectile dysfunction.
The risk is also significantly raised if there is a history of prostate cancer in the family, as was the case with Mr Walton.
"My brother - who's 10 years older than me - had the condition 12 years ago, when he was 64," he said.
"And that's the only thing which has really annoyed me about all of this. I didn't know it, but apparently doctors have known for a long time that male relatives of someone with prostate cancer are twice as likely to develop it themselves, yet there's no resources put into early detection."
"Relatives of people with bowel cancer are offered colonoscopies, women over a certain age can have mammograms, so why no screening for prostate cancer?"
Ray Murray, founder of Welsh prostate cancer charity Glaze, said early detection was the key, although some NHS trust were more proactive than others.
"Stage one and two tumours are extremely treatable with drugs, stage threes often require surgery, and stage four tumours have often spread to other parts of the body, and have a much worse prognosis," he said.
"So it stands to reason that the earlier they're diagnosed and treated the better the potential outcome.
"When I was diagnosed, I was told that I could have had one operation instead of two, and a much quicker recovery time, but the equipment didn't exist in south Wales.
"So once I got better, I said to my surgeon, 'Let's raise the funds to get this equipment', and now the Princess of Wales Hospital (in Bridgend) has a prostate cancer centre of excellence. But not everyone in Wales is as lucky."
Mr Walton says that in order to aid his own recovery, he's focusing on the other men he can help.
"Thousands of blokes get this condition every year, but not all of them are as lucky as I am to have a regular slot on Radio 2," he said.
"I'm optimistic that I'll come back fighting fit, but even if I don't, it gives me a lot of comfort to think that I can use my profile to try and warn and educate others, to save them going through what I am."