April Jones abduction: Call for volunteers to help new search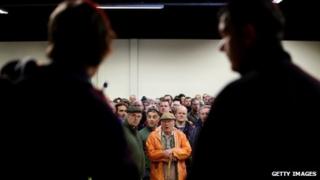 Volunteers have set off on a new search in mid Wales for missing five-year-old April Jones.
Around 450 responded to a call for people with "good local knowledge" to search villages around Machynlleth.
On Wednesday night police were given an extra 12 hours to question Mark Bridger, a local man arrested on Tuesday on suspicion of abduction.
David Cameron called it every family's nightmare and asked anyone with information to speak to police.
Detectives have confirmed April has cerebral palsy and would be in pain without her daily medication.
The prime minister, whose late son Ivan had cerebral palsy, said the fact that April has the condition only made it worse.
Overnight, detectives examined more than 20 places in and around Machynlleth, where April was last seen on Monday.
And on Thursday her family made a plea for people to wear pink ribbons to support the search.
The call for people, living within a 10 to 15 mile (16-24km) radius and with a good local knowledge, came from rescue co-ordinators on Thursday morning.
They are operating separately to the police.
Their intention is to search the area around 32 villages, concentrating initially on 15 communities.
They specifically want people who know the area well, farmland, holiday homes and out-buildings.
Carl Jones, one of the volunteer co-ordinators, told people before they set off they were all potential witnesses to anything they might find.
Volunteers were told to keep away from the River Dyfi, the Dyfi forest and places such as mine shafts, which were being searched by specialist teams.
The main purpose is to search farmland and outbuildings and people are to report any suspicious immediately, and return by 16:00 BST.
The volunteers, some with dogs, include local farmers, council workers, councillors and retired couples.
Volunteer co-ordinator Anwen Morris: "I believe we can still find her and will find her and we need to bring this little girl home."
Meanwhile, police said they were drawing on the skills and expertise of specialist teams for the "intricate and detailed searches that we plan to undertake today".
A force spokeswoman said they had details of a large number of people offering to help with specialist skills.
But, she added, "we do not, at the moment, need to call upon their assistance and we have made no appeal for any existing volunteers or fresh volunteers to come out to assist us today".
April's godmother Mair Raftree said April's family was "just devastated".
"And they're just waiting every minute of every hour for some news of the return of April," she added.
Dyfed-Powys Police chaplain in Aberystwyth, Reverend Roger Thomas, said he had been helping to boost the morale of police and other search team members looking for April.
Rev Thomas said: "If an officer has been working for five or six hours I'll go up to him or her and have a chat and generally help to boost and help with their morale.
"The police are used to working in stressful situations, but I felt it would be odd if I wasn't here in Machynlleth to help practically."
Overnight, the Bishop of Bangor Andy John led a vigil in the parish church in Machynlleth.
"People all over the country are now praying for April's safe return and I hope these prays will envelop her and her family," he said.
Supt Ian John, making a fresh appeal for information, thanked the hundreds of locals who had once again turned out to scour the countryside, while police were continuing to work with other forces, mountain rescue, coastguard and other agencies.
"We understand fully why people feel the need do something practical to get out and try to find April," he said.
"We want to ensure that we do all we can to find her, and at the same time do nothing to jeopardise the effort to locate her."
Police said they were focusing on over 20 scenes and had received "unprecedented support from the rest of the UK".
Giving more details about the extent of the search, Supt John said on Wednesday: "There are a large number of sites and they're very varied in nature."
"The terrain and geography we're working in is really challenging. It's been described as a hostile environment.
"We've got a flooded river we're working around.
"I also want to emphasise the variety of the search sites. They range from houses, outbuildings, open areas river banks."
He went on to say: "Over the next 24 hours we have plans for more specific search officers to search for April.
"There's no way we are scaling back our search and we remain focused until we find April."
His appeal came hours after April's mother Coral Jones broke down in tears as she appealed for information.
"It's been 36 hours since April was taken from us and there must be someone out there who knows where she is and can help the police find her," she said.
"We are desperate for any news. April is only five years old - please, please help find her."
Dyfed-Powys Police have asked anyone with information to contact a dedicated hotline on 0300 2000 333.