April Jones: Mark Bridger arrested on murder suspicion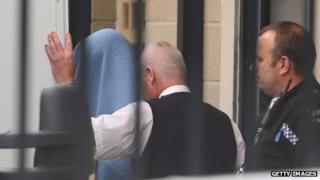 The man held for the past three days over the disappearance of five-year-old April Jones in mid Wales has been arrested on suspicion of murder.
Det Supt Reg Bevan said Mark Bridger remained in custody for questioning.
He appeared in court in Aberystwyth on Friday afternoon, where police sought a warrant to further detain him.
Meanwhile, it has emerged the arrested man, 46, had attended the same school parents' evening as April's parents hours before she went missing.
He was seen at Ysgol Gynradd Machynlleth in Powys.
Teams have spent the past few days searching the River Dyfi in the mid Wales town of Machynlleth, where April went missing on Monday evening.
Officers said they now required only professional searchers in the hunt.
Det Supt Bevan and Supt Ian John gave a Dyfed-Powys Police update on the investigation at a press conference in Aberystwyth.
Mr Bridger was initially arrested on Tuesday in connection with April's disappearance and is being held at Aberystwyth police station.
But on Friday morning, Det Supt Bevan told reporters: "Mark Bridger has been arrested on suspicion of the murder of April Jones.
"He remains in custody in Aberystwyth and continues to be questioned. The arrest does not detract from our efforts to find her.
"Her family has been informed of this development and they continue to be supported by our specialist trained officers."
He renewed his appeal for information about Mr Bridger's movements and that of his vehicle.
"We are looking to trace the movements of Mark Bridger between 6.30pm on Monday and 3.30pm on Tuesday, and any sightings of him between these times," he said.
Forensic examination
"We also need information regarding the movements of the blue Land Rover Discovery, registration L503 MEP, between these times."
Forensic examination is taking place on the vehicle.
"While this is a significant development, I appeal for information to find April," said Det Supt Bevan.
Police have until about 17:00 BST on Friday to question Mr Bridger, but can apply for another 24-hour extension before he must be released or charged.
Supt John said: "We want to acknowledge and are extremely grateful for the efforts of the community volunteers who have supported the professional searchers in trying to locate her.
"They have been a vital part of our team throughout this search operation. Quite frankly, their commitment has been an inspiration to us all.
"The dynamics of the search have now changed and due to the passage of time and the developments within the investigation, it is no longer appropriate for us to expect untrained members of the public to continue the search.
Public fund
"So now we only require professional searchers to be involved in the ongoing search which continues in and around Machynlleth."
Later, Powys council confirmed Mr Bridger had attended the same parents' evening on Monday - which started at 17:00 BST - as April's parents.
He was seen driving to the school in his Land Rover Discovery.
Earlier, officers were searching a farmhouse in the nearby village of Ceinws, where the arrested man was known to be living most recently.
Speaking outside Ysgol Gynradd Machynlleth on Friday afternoon, the head teacher of April's school, Gwenfair Glyn, said their thoughts were with the five year old's family and friends.
"This week has been the hardest in the school's history, an emotional rollercoaster, but everybody has rallied around to provide support and we're very grateful for that."
Jackie Roberts, the Dyfed-Powys chief constable, has written an open letter to all the volunteers who took part in the search.
She wrote: "I know that you have been involved in extensive searches over protracted periods of time, during hours of darkness, treacherous weather conditions and on difficult terrain.
"Your commitment has been an inspiration to us all and I will always be very grateful for your selfless act in our efforts to find April.
"April's family and I have been overwhelmed by the reaction of you all and I am extremely proud to be your chief constable; we will always be indebted to you."
The Bishop of Bangor will lead a special service of prayers and readings for the community of Machynlleth on Sunday.
Meanwhile, a public fund has been set up due to the number of people from around the UK wanting to show their support, according to the town council.
Wales football manager Chris Coleman said that the team's thoughts were with April's family.
Speaking at a squad announcement before Wales' next World Cup qualifying games, he said: "I can't imagine what her parents are going through, it's an unthinkable situation. All my players and staff send our love, prayers and thoughts to her family."
'Traumatic time'
Parts of the town have been covered in pink ribbons since April's mother made a plea for people to wear her daughter's favourite colour and to show support for the search.
A special area has been created in the foyer of April's school, Ysgol Gynradd Machynlleth, after a request from April's mother, with pupils creating small individual heart-shaped messages.
The school has also set up an open book for parents, pupils and staff to leave "messages of support for April, Coral, Paul, Jasmine and Harley during this traumatic time".
Psychologists have been working with the children.
Dyfed-Powys Police have asked anyone with information to contact a dedicated hotline on 0300 2000 333.