Wooden crosses reinstated at Blaenavon Cemetery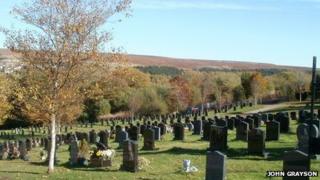 A council which was forced to apologise after removing a large number of wooden crosses from a cemetery now says they will be allowed to stay.
Torfaen Council admits it caused "unnecessary upset" to bereaved families after taking away memorials from graves at Blaenavon Cemetery.
Following a review the council now says wooden crosses will remain as long as they are properly maintained.
Councillor John Cunningham said the move had been "unsympathetic".
Wooden crosses are commonly used in cemeteries temporarily until the ground is ready for a permanent memorial.
The council's previous policy was to remove them after 12 months, with bereaved families being informed.
However, in July a large number of wooden memorial crosses, which had been in place for many years, were removed in error and families were not told.
Now, following a review, the council said it is changing its policy and will allow the crosses to remain, but the grave owners will have responsibility for maintaining them.
If they fall into disrepair the council will have the right to remove them, although it will write to the grave owner before any action is taken.
Mr Cunningham, executive member for neighbourhood services at the council approved the changes and said he hoped the families affected would be "reassured that our apology has been more than just words, and their feedback has been followed up with positive action".
"Our existing policy was well intended, introduced to preserve the dignified appearance of our cemeteries and of course, that is something that we will continue to uphold," he said.
"However we have recognised that it was also unsympathetic to the feelings of the bereaved, did not account for sufficient communication with grave owners and did not recognise that some people simply cannot afford a permanent stone memorial for their loved ones.
"I'm confident that the changes we have introduced will ensure it doesn't happen again."