Leighton Andrews outlines reforms for schools standards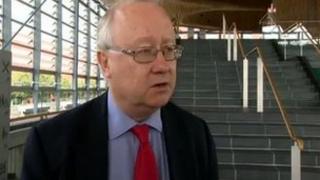 The education minister has explained how and when reforms will be introduced to improve standards in Welsh schools.
Leighton Andrews said worldwide tests for 15-year-olds, which showed Wales had slipped behind in 2009, had been a "wake-up call".
A report on how the Welsh government will implement a 20-point plan for better standards says high expectations should be set for all pupils.
It includes a target for a big improvement in GCSE performance.
Just over 50% of 15-year-olds in Wales reach the so-called level two standard of five or more GCSEs at A* to C grade, including English or Welsh first language and maths.
By 2015 the Welsh government wants 65% to hit the mark.
'Complacent'
Mr Andrews announced reforms after international assessments for reading, maths and science showed Welsh teenagers were falling behind.
Out of 67 countries taking part, Wales was ranked 38th for reading, 40th for maths and 30th for the tests for science.
The Welsh government wants Wales to be among the world's top-20 nations for reading by 2015.
Mr Andrews said: "The Programme for International Student Assessment (Pisa) in 2009 was a wake-up call to an education system in Wales that had become complacent, falling short of being consistently good and not delivering the outcomes our learners deserved."
The improvement plan includes a commitment for better "performance management" of headteachers.
Mr Andrews said there had been progress, with fewer young people leaving school with no qualifications, but there was more to do.
"This new implementation plan sets out our ambitious reform agenda," he said.
"It builds on what we have achieved already and outlines what is required of everyone in our education system to drive improvement and raise standards in the future."
Plaid Cymru education spokesman Simon Thomas said: "This is yet another ambitious target with no resources or plan of how to get there.
"The Welsh government has been wringing its hands about poor attainment by Welsh pupils for too long - it's time for delivery and real results on the ground, not another strategy."