Stowaway chameleon lizards seized from ship in Cardiff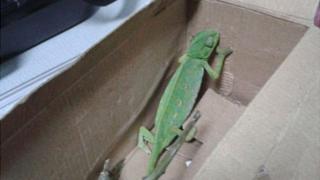 They may be known for changing appearance, but four chameleon stowaways on board a ship in Cardiff's dock could not escape the attention of customs officers.
The lizards had been bought by the crew as pets in Casablanca, Morocco, where the ship had previously docked.
Officers discovered them during a routine check on the the Turkish-registered vessel and its crew.
The animals were seized and are now in quarantine in Bristol Zoo.
Customs officials reported the animals were being kept in unsuitable conditions on board.
One was living on a tree branch in a shower room and another was kept shut up in a locker zipped inside a crew member's overalls' pocket.
The crew received a warning from officers but were allowed to continue loading their cargo of steel.
Alex Lawther, from Border Force in Wales, said: "These chameleons were being kept in unsuitable conditions and our officers acted quickly to make sure they can now be cared for properly and have the best possible chance of survival."
The chameleons are now being kept in quarantine for several weeks at the zoo. They will then be cared for in the reptile house.
No-one is allowed to bring endangered animals and plants into the country without a permit.