Elderly care change 'is not showing,' says commissioner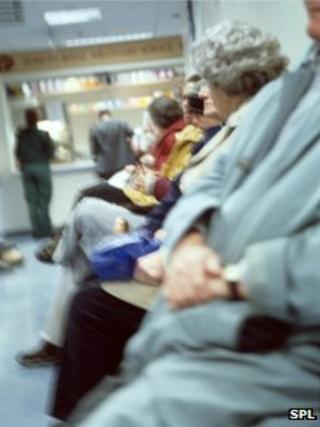 Hospitals in Wales have yet to show significant improvements in the way older people are treated, says the Older People's Commissioner for Wales.
Sarah Rochira said she believed "real action" was under way but evidence of the change in the quality of care of older patients was still lacking.
Her first report follows a review of hospital care in 2010 which found "some shamefully inadequate treatment".
The Welsh government said it was committed to making improvements.
Ms Rochira said she accepted there had been a more rigorous approach by the NHS in Wales and Welsh government to the issue of the dignity of older people undergoing hospital care.
But the evidence of that more serious approach was lacking, despite the "significant" work undertaken by the bodies she had reviewed, she said.
She said: "What I will now be focusing on over the next 18 months is obtaining clear evidence from the NHS and Welsh government of real improvements in patient care and patient experience at the ward level.
"Older people, wherever they live in Wales, should feel confident that they will be treated with dignity and respect when they go into hospital.
"Their voices and experiences, as well as those of the people who care for and support them, will be at the heart of my final verdict."
'Respected'
She added the chief executive of the NHS in Wales had agreed to provide a progress report in March 2013.
A Welsh government spokesperson said: "The NHS has been working hard to make sure it treats every patient with the highest levels of dignity and a report we published earlier this year showed 95% of patients said they felt respected by staff.
"However, we're committed to making sure every patient experiences the highest levels of dignity in care, which is why we will publish an update in March next year outlining the improvements delivered."