Antarctic work trip for Kathleen and Joe Leavy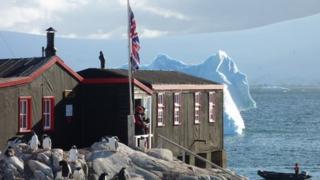 A father and daughter from Neath are packing their suntan lotion for their second summer in Antarctica.
Kathleen Leavy, 25, and her father Joe Leavy, 56, have both been invited back for a second year by the UK Antarctic Heritage Trust.
The Monmouthshire-based charity works to conserve historic buildings in and around the South Pole.
Kath will be working in an Antarctic post office while carpenter Joe will be renovating a research post.
But while winter temperatures can hit -57C, in the summer it can rise to a balmy 15C and sunburn is a genuine risk.
Kath and Joe will be just 50 miles (80km) apart, but Joe - who's working in a three-man team restoring isolated historic huts - will be out of touch with his daughter and the rest of the world for the duration of their four-month contract.
In contrast, Kath will be working in the Port Lockroy post office - the most southerly in the world - and could come into contact with up to 15,000 tourists from passing cruise ships.
"Sometimes it gets so busy there with people coming in for their maps and to post a card with an Antarctic stamp, that you actually forget where you are," said Kath.
"You could be working in a corner shop in Neath.
"Then you step outside and see the penguins and leopard seals, and realise that it's just as sunny at two in the morning, and it all comes back to you.
"Not that you get much time to see the sun in the early hours.
"People often ask me how I managed to sleep through 24-hour sunshine, but the work is so hard, and the weather so variable, that by the time you've worked and eaten, you're just ready to fall into bed however light it is."
Joe, who has worked as a carpenter all his life and is due to work further south renovating a 1950s research post on Detaille Island, says it takes a particular sort of person to work on the bottom of the globe.
"I've worked as a carpenter in many places in the world, including the African jungle, but nowhere quite as remote as Antarctica," he said.
"I'm so pleased we have both been given this amazing chance.
"Technically-speaking there's not a great deal of difference. In the summer there it's not cold enough to make the tools or the wood behave differently, but it does require a different mind-set.
"You have to be very self-sufficient and like your own company, because the satellite only passes once a day, and that's all the communication you're going to get from the outside world.
"At the same time you have to mix well, because you're going to be stuck with the same people for four months."
He said people had to be careful and methodical in everything they did.
"Jobs I might knock-off in half an hour in Neath require careful planning, as if you have an accident, the nearest help could be anything from a day to a week away," he added.
"The other important thing is not to get lulled into a false sense of security by the weather.
'Stripping down'
"When it's sunny and you're working hard, you might feel like stripping down, but even though it's only a maximum of 15C, the hole in the ozone layer means you can still burn really badly.
"Plus you always want to know where your coat is, because in the blink of an eye almost, it can go from plus 15 to -15, and you're in the middle of a blizzard."
Joe will be joined on Detaille Island by fellow Neath carpenter Mike Powell, while Kath's boss at Port Lockroy has been learning her trade at the post office in Abergavenny.
The UK Antarctic Heritage Trust rely on sales of Antarctic stamps and gifts from the Port Lockroy shop to fund up to half of their heritage work each summer.
The shop is open between November and March, the only time when the ice is thin enough for ships to reach the area.