James Walker honoured for Wales' lighthouses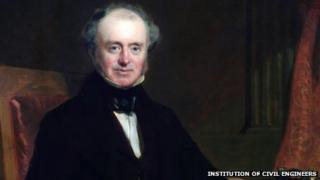 The engineer behind many of Wales' well-known lighthouses has been remembered 150 years after his death.
James Walker, born in 1781, has had a plaque unveiled in his name at West Usk lighthouse near Newport by the the Institution of Civil Engineers Cymru.
The lighthouse, which is now a boutique hotel, lit up the mouths of the rivers Usk and Severn for more than a century.
Walker also designed Cardiff's East Bute Dock but rubbished Brunel's plans for a Severn bridge in 1845.
Historian Stephen K Jones said: "There was a major conflict of styles between Walker and Brunel.
"Whilst Brunel was the brilliant but riskier innovator, Walker was very much perceived as a safe pair of hands."
"His Royal Society obituary said Walker had not a very innovative cast of mind but he had great caution and sound judgment.
"As such, perhaps it was inevitable that Walker would veto such a bold plan. He was unable to foresee the rise of the motor car and fall in dominance of shipping, and so a Severn bridge was probably still a century ahead of its time."
Walker, a Scotsman, made his name as architect for Trinity House, the body responsible for Britain's ports and lighthouses, where a safe pair of hands was exactly what was required.
At a time of great maritime investment during the first half of the 1800s, he designed four of Wales' 32 lighthouses.
They were West Usk, near Newport; South Bishop off Pembrokeshire; and the Skerries protecting Holyhead.
Along with his business partner Alfred Burges, Walker designed Cardiff's East Bute Dock in 1855, paving the way for the city to become the biggest coal exporting port in the world.
He also consulted on many of north Wales' Victorian harbours.
After time away to work on the railways, Walker returned to Wales and the Bute dock project in the 1850s. A chance meeting during these works would bring yet more significant change to the capital.
Walker introduced his employer, the third Marquess of Bute, to his business partner's son, fellow architect William Burges.
Gothic revival
The Marquess and Burges discovered their mutual love for the Gothic revival inspired by medieval architecture, and embarked on a 25-year collaboration between 1867 and 1892 completely redesigning Cardiff Castle and Castell Coch - on the outskirts of the Welsh capital - into the landmarks they are today.
"There is some evidence that Walker, Burges Elder and Younger, and Bute had a meeting, though there's no definite way of knowing how much Walker was involved in bringing William Burges and the Marquess closer together," said Mr Jones.
"But if you accept that he played at least some role there, and take it together with his work on Bute Dock and the veto of the Severn bridge, then you can start to put together an argument that Walker had at least as big an impact on modern Wales as any Victorian architect, Brunel included."
Outside of Wales, Walker's most significant works include early plans for the Thames Embankment and Blackfriars and Vauxhall bridges in London.
A measure of his standing was that when Thomas Telford, the founding chairman of the Institution of Civil Engineers, died in 1834, Walker was unanimously chosen to succeed him.
Walker died aged 81 in October 1862 and is buried in his family vault in Edinburgh.