Stormy weather prompts fire service warning to motorists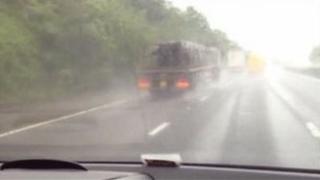 Fire chiefs in mid and west Wales are warning motorists to be extra vigilant during the stormy weather.
Strong winds, heavy rain and localised flooding have been causing serious problems on the roads.
The fire service is urging motorists to plan their journeys before setting out.
Area manager Jim Cameron said: "We have had several serious collisions in our area this week and a car trapped in floodwater where a driver had to be rescued by specialist crews."
"We are asking drivers to ensure that their vehicles are in good condition with tyres that have adequate tread, windscreen wipers in a serviceable condition and to drive at speeds that allow them to stop safely."
They have advised drivers to visit Traffic Wales for the latest traffic information.