Welsh Music Prize: Future of the Left named winners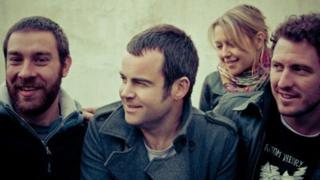 The winner of this year's Welsh Music Prize is the rock band Future of the Left for their third album, The Plot Against Common Sense.
Twelve albums by Welsh artists were shortlisted for the award, won last year by Gruff Rhys for Hotel Shampoo.
The shortlist was voted on by a jury of Welsh music industry experts, journalists, bloggers and DJs.
The music prize, which is in its second year, was being held in Cardiff to coincide with this year's Swn Festival.
Future of the Left, based in Cardiff, were originally a trio formed from the bands mclusky and Jarcrew in 2005.
They became a quartet when ex-Million Dead bassist Julia Ruzicka joined.
The Welsh Music Prize was launched in 2011 by BBC Radio 1 DJ Huw Stephens and gig promoter John Rostron.
It was created to coincide with the Swn Festival in Cardiff which celebrates music made in Wales or by Welsh people around the world.
The shortlist was diverse with some acts singing in English and others only performing in Welsh, some established artists, some who are new to the scene.
John Rostron said: "The other big creative prize is the Mercury Prize and it's been running for 20 years.
"Over 20 years they're shortlisted over 224 albums and of those 224 only two have been from Wales.
"As a music lover and someone living in Wales, I think there has been more than two good records.
"The Welsh Music Prize is just a sort of retaliation slightly, a little sort of 'hello' about what we think is good coming from this country."
Huw Stephens said the success of the Welsh Music Prize in 2011 meant it had strong foundations for this year's prize.
"The shortlist is full of varied Welsh albums with rock, folk and experimental music all featuring, and we see the Prize as a celebration of the great talent committing to create memorable albums in Wales," he added.
"The artists benefited from the Welsh Music Prize in 2011, and this year we hope to build on its success."
Last year's winner Gruff Rhys was shortlisted alongside acts such as Manic Street Preachers and Joy Formidable, as well as lesser known acts such as Lleuwen and Stagga.
A concert featuring many of this year's shortlisted acts is taking place at the Coal Exchange in Cardiff later.