Wales TUC joins anti-cuts protest in London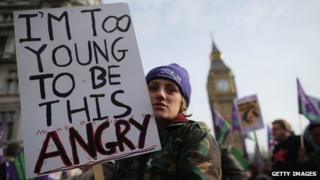 Wales TUC members joined tens of thousands of people to march through London to protest against the UK government's austerity measures.
A train was chartered and buses laid on from all over Wales to take thousands of people to London.
Union members and protesters took part in a march on Saturday before joining a rally in Hyde Park.
A UK government spokesman says ministers are doing all they can to get the economy growing again.
Rhiannydd Williams, policy and campaigns officer with TUC Wales, said: "We have tried to extend the march to as broad an audience as possible - it's called For a Future that Works after all.
"One carriage on the train is dedicated to families. Some of those are families of union members but some are those who have been affected by the cuts and feel strongly about it and contacted us. There are also community groups on the train."
She added: "The austerity measures are really affecting people now. They haven't even been enforced fully yet. But people are really struggling and people see a real unfairness and people want to see a more equal society."
TUC general secretary Brendan Barber said he did not think a general strike by unions was likely, adding: "Some of my colleagues may talk about that. I don't hear too many people calling for a general strike."
Mark Serwotka, leader of the Public and Commercial Services (PCS) union, is expected to say: "Almost everyone now agrees that austerity isn't working and that this government's policies are making our economic situation worse, not better."
A UK government spokesman said: "It is disappointing that some unions insist on pushing for irresponsible and futile strike action which benefits no-one.
"As we have said time and again, pension talks will not be reopened and nothing further will be achieved through strike action."