Welsh Surfing Federation's unregulated schools concern
By Gemma Ryall
BBC News, Wales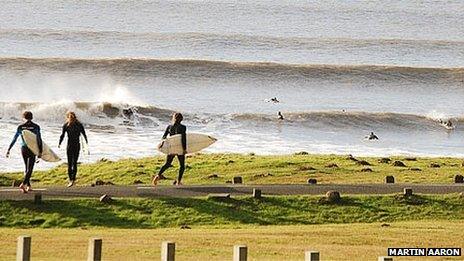 Concerns have been raised that surf schools are being set up without proper checks and regulations.
The Welsh Surfing Federation, which oversees the sport in Wales, said it had evidence that some instructors were unqualified.
Secretary Stuart Bentley, of Porthcawl, said he had also seen lessons being held in dangerous conditions.
Surf body Surfing GB would toughen the rules across the UK if granted national governing body status next year.
It said the surfing industry had been "pretty unregulated" since the collapse three years ago of the previous governing body, the British Surfing Association.
Mr Bentley said the issue of unregulated surf schools needed to be addressed urgently as lessons had become "unbelievably popular" in Wales.
"It's very worrying from our point of view as there's very little legislation about who sets up surf schools," he said.
"We have grave concerns about people who aren't qualified to do so and we have evidence of some setting up.
"What I have seen is so-called surf instructors setting up lessons when it is dangerous - such as teaching when it's high tide and when rips are dangerous.
"I've also seen instances when there are not enough instructors for the number of pupils and teachers not giving proper instructions."
Mr Bentley, who is also a member of the Welsh Coast Surf Club in Porthcawl, added: "It has become more of a problem. I've travelled down the Gower and seen signs for surf lessons on the side of the road with a mobile number.
"And I wonder if they have the right paperwork and insurance. It could be any Tom, Dick or Harry and it could lead to many different problems, particularly with kids learning."
Surfing is becoming increasingly popular, particularly in the south west of England and Wales, where people travel to popular surf spots like Gower, Pembrokeshire, Porthcawl and the Glamorgan Heritage Coast.
Mike Steadman, who runs the Welsh Surfing Federation Surf School at Llangenith on Gower, said his classes were often full during the summer months, with sessions also booked throughout spring and autumn.
"It's very popular. We're getting a huge range of people - not just one type," he said.
"We get youngsters whose parents want an activity for them. We get people who want to learn it as a sport, we get hen and stag groups, birthdays, retirement presents...
"When I started at the school 18 years ago we were the only one in Wales - I think there were only a few in the country. Now there's several on every beach."
Surfing GB said it had applied to the UK government to become the sport's new governing body, but the process takes two years. It could be granted the status early next year.
Matt Knight, director for member services at Surfing GB, said that until it was officially recognised it could only appeal to surf schools to voluntarily affiliate themselves with the organisation.
In doing so they would be thoroughly checked and listed as one of their approved surf schools.
"We are also urging local authorities encourage surf schools that use their beaches to affiliate with us to ensure they are checked," he added.
Swansea council, which owns some of the beaches in Gower, said any surf schools using its land had to apply for a permit or licence.
"These licences and permits are broken down into a series of criteria that surf schools have to comply with to ensure a successful application," a spokesman said.
"The criteria includes meeting the requirements of both the former British Surfing Association and Surfing GB."
Related Internet Links
The BBC is not responsible for the content of external sites.