Public say on two Welsh health board shake-ups close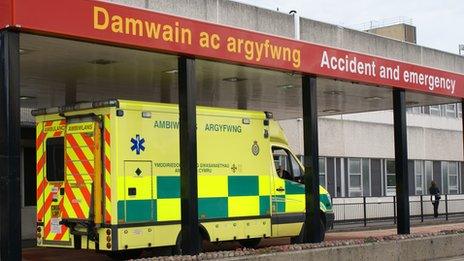 Two public consultations on wide-ranging changes to health services in Wales are coming to an end.
The Betsi Cadwaladr University Health Board in north Wales and Hywel Dda in mid and west Wales have spent 10 weeks seeking views.
Proposals from both boards, including changes to neonatal services and community hospital closures, have prompted protests.
Consultation in north Wales ends on Sunday and for Hywel Dda on Monday.
Neil Bradshaw, director of planning for the Betsi Cadwaladr board (BCUHB), said: "We have already had many people coming forward to offer their views, take part in debates and suggest alternative approaches.
"We have been pleased with the lively and robust debate we have had so far."
The health board was the first in Wales to publish its reorganisation plans, followed by the Hywel Dda board.
Under BCUHB proposals being put forward, Flint and Blaenau Ffestiniog community hospitals face closure, while complex neonatal intensive care would be moved to Arrowe Park in Wirral.
The BCUHB's chief executive, Mary Burrows added: "The health board is clear that we cannot afford to stand still. The status quo is not an option.
"The proposals we are now making are intended to change the way in which services are provided and where they are provided to meet quality standards.
"Our aim is to improve health, not just extend life. We believe that services should be close to where people live whenever it is safe and appropriate.
The Hywel Dda plans would see Llanelli's Mynydd Mawr community hospital close, along with Tregaron and Aberaeron hospitals in Ceredigion.
Services for sick and premature babies could be centralised at at Glangwili Hospital, Carmarthen - a move which has prompted protests at Haverfordwest's Withybush Hospital.
"Our current system is simply not sustainable, presenting us with quality and safety issues and inefficiencies," stated consultation documents published by the Hywel Dda board.
"In every case, no change is not an option - it is a necessity if we are to deliver high quality, safe health services to people living in Hywel Dda Health Board area."
Both health boards said they will now consider the responses made during the consultation process, before deciding how possible changes are implemented.
The Betsi Cadwaladr board consultation closes on Sunday. Submissions can be made online or via email at jointhedebate@wales.nhs.uk.
The Hywel Dda board consultation ends on Monday. Submissions can be made online or via email at hyweldda.engagement@wales.nhs.uk.
Related Internet Links
The BBC is not responsible for the content of external sites.