Efficiency savings force more guilty pleas, lawyer says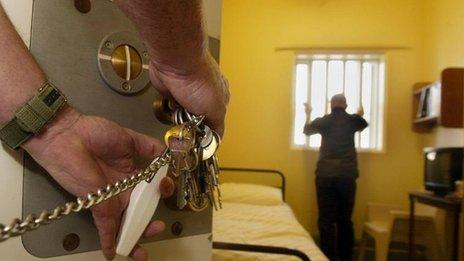 Efficiency savings in the criminal justice system are pressuring more people to plead guilty, a leading criminal lawyer says.
The early guilty plea (EGP) scheme aims to encourage people to plead guilty early in return for up to a third off their sentence.
Cardiff-based defence solicitor Simon Mumford says he is worried the measures are undermining justice.
The Ministry of Justice says EGPs are efficient, fair, and save money.
The scheme aims to streamline trials and speed up the judicial system.
However, Mr Mumford told The Wales Report on BBC Wales: "The whole thing is to do with cutting costs.
"We have clients who will say 'I cannot afford to employ you, I've not got legal aid, I'm worried about what I'll have to pay if I'm found guilty, I know I am innocent but I'm going to plead guilty' - it happens all the time."
The initiative, which aims limit trials in magistrates courts to six weeks, was introduced earlier this year and is being rolled out across crown courts in Wales.
Chandelle Farrah of Ely, Cardiff, was charged with a violent offence after being involved in a pub brawl last Christmas.
She maintained her innocence but said family circumstances led her to make a decision she did not want to make, for fear of being remanded in custody.
At a sentencing hearing the judge said Ms Farrah had been "humiliated" by the process and gave her a suspended sentence.
She said: "I've had to suffer and go and say I'm guilty for something I'm not guilty for - it's confusing.
"It's upsetting, it's emotional and sometimes I feel happy that it's over but sometimes I feel I've done the wrong thing."
Victim Support warns that while the scheme may be beneficial for victims of crime who do not wish to go to court, it may deny some a fair say in how offenders are sentenced.
Graham Foulston, a former magistrate and victim support volunteer, said: "It is one of the failings in the system where the victim does not get a reasonable say in what goes on.
"If there is ever any change in what goes on in court, it is at the best endeavours of the Crown Prosecution Service to consult the victim and their family before any change is made.
A Ministry of Justice spokesperson said: "It is a long-standing practice of our justice system that those who are guilty are encouraged to plead so at the earliest possible opportunity, by giving a reduction in sentence of up to one third.
"It saves victims and witnesses the inconvenience and trauma of having to attend court to give evidence.
"It also saves significant amounts of taxpayers' money," he said.