Proper Welsh Milk dairy pays farmers 3p more for milk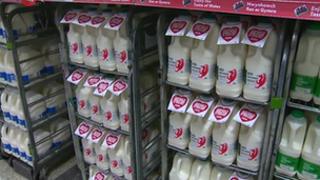 A dairy is paying its farmers an extra 3p per litre of milk in an effort to keep production in Wales.
Proper Welsh Milk Company in Whitland, Carmarthenshire, said very little Welsh milk is processed in Wales as most is driven over the border to England.
It says consumers it has spoken to would be happy to pay more for local products and to safeguard Welsh jobs.
Tesco, which stocks Proper Welsh Milk, said so far it is absorbing the cost so shoppers will not face a price rise.
Richard Arnold, director of the Proper Welsh Milk Company, which has launched a Save Welsh Milk campaign, said they were paying farmers more to keep milk processing in Wales.
"It's about keeping [the milk industry] live and well," he said.
"What we have been doing, we have been doing it for just over a year now, is bottling our milk here in Wales and much of the supermarket milk goes out of Wales, is bottled and comes back.
"And we're losing the know-how, we're losing the knowledge bank and, crucially, we're losing the jobs.
"Even in the year we have been operating three other small dairies in west Wales have shut, a large dairy in north Wales - a liquid milk production - has stopped and we're haemorrhaging jobs in the dairy sector in Wales."
Mr Arnold added that consumers the dairy had spoken to were happy to pay more for local products.
Shop price
Mark Granton, Tesco's senior buyer for local sourcing in Wales, said the dairy added the extra 3p to its prices a couple of weeks ago but customers would not be charged more.
"At present we haven't made any move on our prices," he said.
"We're still trying to be quite aggressive and grow the brand. But I think that's something we will review going forward and we will see what the impact of it is.
"But as we currently stand we have no plans to change anything. The 3p is not being passed onto the customer at present. At the moment we have absorbed it."
Earlier this year farmers around the UK protested against planned milk price cuts of up to 2p a litre.
Four leading dairy processors announced they would be reducing the price they paid to farmers from August.
Campaign group Farmers for Action (FFA) is warned that cuts in the price paid to suppliers by dairy processors, combined with rising feed costs, could force hundreds of dairy farmers out of business.
Proper Welsh Milk opened in 2011 on the site of the former Whitland Creamery.
At the time it said it would help to safeguard the work for dairy farmers in the surrounding area.