Police commissioner election: Neighbourhood Watch 'in dark'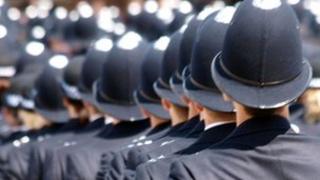 A Neighbourhood Watch leader says its members have little idea what the new Police and Crime Commissioner role will involve.
Matt Locke, secretary of the South Wales Neighbourhood Watch Association Cardiff, said police forces and the Home Office had not done their job publicising Thursday's vote.
But the Home Office said it had spent two years advertising the new roles.
It said PCCs will be more democratic than "invisible" police authorities.
But while officials say leaflets about the police and crime commissioner elections have been sent to 21m households across the UK, Mr Locke said none of his members had received one.
"We have not really got a clue what the role is about - and they have not got a clue what ours is," he said.
"I think there have been failures on behalf of the police and the Home Office. They have not done their job in letting people know about the commissioners and elections."
Mr Locke runs Whitchurch Community Centre, which will be used as a polling station, and said: "I would be very surprised if we got 50 people in here voting on the day.
"At the community centre I quite often get stuff that's happening sent through to me in the post, but I've had nothing on this election at all."
Mr Locke, 35, took over the Neighbourhood Watch role last year and set up a meeting with officers at Cardiff Bay police station, who he says told him it was "make or break" time for the group.
One of his aims was to encourage younger members to join the organisation.
He is very clear about what he would like the role of police commissioner to entail.
"I need someone to be very proactive with neighbourhood watch, someone to work with us, someone to sit down and discuss problems and solutions," he said.
"Communication is very important - sometimes we know more than the PCSOs."
'Bitterly disappointed'
Mr Locke said he was looking forward to the winning candidate taking up the post, but also had reservations.
"I will be bitterly disappointed if it becomes all about politics," he said. "It's about crime and not about politics and pushing through policy."
He will be contacting the new police commissioner after the election.
"When there's a new inspector, or even higher ranking officers, we will send them a letter asking them for a sit down and a chat.
"We'll be doing the same with the police commissioner, although it would be nice if they would contact us."
On Thursday voters in all parts of Wales and England and Waleswill elect a commissioner for each police force to replace police authorities in 41 areas.
A Home Office spokesperson said: "Police and Crime Commissioners will be the most significant democratic reform of policing ever, giving the public a real say in how their communities are policed.
"Any turnout will confer a better democratic mandate than the current invisible police authorities have.
"We have been publicising PCCs for more than two years and launched a national advertising campaign last month."
Jim Maddan, chairman of the Neighbourhood and Home Watch Networks, said its members recognise the importance of a commissioner "who listens to the concerns of the voluntary sector and does not take them for granted".
"It is important that the new commissioner realises that without the support of organisations such as Neighbourhood Watch, the fight against crime is doomed to fail.
"We will give them a chance to prove that they have been listening."