Jimmy Savile: Nephew died from 'heartbreak', say family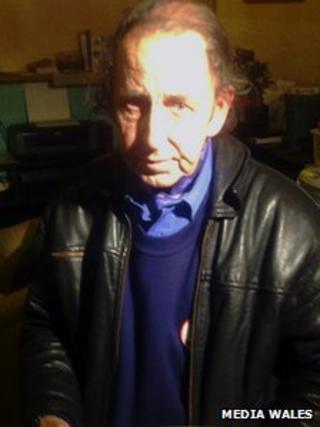 A nephew of Jimmy Savile may have died of heartbreak following abuse allegations against the former DJ and TV presenter, according to his family.
Vivian Savile, 69, a charity volunteer from Pontypridd and the only son of Jimmy's older brother Vincent, died last month.
His family said they believed he "hero-worshipped his uncle" and went into decline as the scandal erupted.
"Heartbreak may have been the cause of his condition," they said.
Vivian Savile died on 14 October in the Royal Glamorgan Hospital, Llantrisant, after he was admitted nine days earlier.
His funeral on 29 October was attended by close family friends and staff from the local Red Cross shop where he worked as a volunteer.
Police believe Jimmy Savile, who died a year ago aged 84, could have abused as many as 300 people over a 40-year period.
They have described him as a "predatory sex offender" and are following 400 lines of inquiry.
'Quiet and withdrawn'
In a statement, Vivian Savile's family said he became depressed and unable to eat properly when the media storm surrounding his uncle erupted.
As a result, they said the keen cyclist became weak and unable to walk any distance which suggested "something was very wrong with him".
The family explained that Vivian Savile had spent time with his uncle in the 1970s, but lost touch with him when his parents divorced.
His father moved to Leeds with his family, but Vivian Savile remained with his mother in Porth, Rhondda Cynon Taf.
When his mother died, he moved to Pontypridd where he made a lot of friends, the family said.
"Although he had no contact with his father's family for 25 years, it is generally felt that when the current Savile scandal concerning Jimmy became almost daily news, the allegations affected his own self esteem.
"He hero-worshipped his uncle and was proud to be the last male member of the family with the surname Savile.
"At the height of the media blitz, he became quiet and withdrawn, leading to a lack of interest in almost anything including food."