Police and Crime Commissioner candidates for Wales in a minute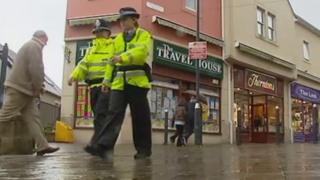 Fifteen candidates in total are in the race to become police and crime commissioners in Wales' four force areas.
The Dyfed-Powys, Gwent, North Wales and South Wales force areas will each have a commissioner.
The elections on 15 November have been described as the biggest shake-up of policing for almost 50 years.
The police and crime commissioners (PCCs) will replace police authorities in 41 areas in England and Wales.
Commissioners will be responsible for appointing the chief constable of their force, setting out local policing priorities, reporting annually on progress, and setting out the force budget and community safety grants.
They will be paid a salary of between £65,000 and £100,000.
Here is a minute from each candidate, setting out how they see their role:
Dyfed-Powys
In Dyfed-Powys two candidates are standing:
Christine Gwyther (Labour)
Christopher Salmon (Conservative)
Gwent
Ian Johnston (independent)
Hamish Sandison (Labour)
Nick Webb (Conservative)
Christopher Wright (independent)
North Wales
In North Wales there are five candidates:
Richard Hibbs (independent)
Colm McCabe (Conservative)
Tal Michael (Labour)
Warwick Nicholson (Ukip)
Winston Roddick (independent)
South Wales
In South Wales there are four candidates:
Michael Baker (independent)
Caroline Jones (Conservative)
Alun Michael (Labour)
Tony Verderame (independent)
The UK government says commissioners are not there to run local police forces but to hold them to account.
The idea for PCCs came from ministers in a pledge to make the police "more accountable through oversight by a directly elected individual".
The proposal was fleshed out in a white paper - Policing in the 21st Century - and enacted in the Police Reform and Social Responsibility Act, which became law in 2011.