New time target plan for Welsh Ambulance Service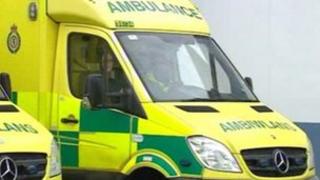 New response time targets are expected to be set for ambulance crews in Wales following the announcement of an official review into the service.
Health Minister Lesley Griffiths has announced plans to improve response times as well as holding a "comprehensive review" into the service.
The service has come under fire for failing to meet its current targets.
Welsh Ambulance Service managers say they welcome the review into the trust.
The ambulance service called the Welsh government action "positive".
The review follows recent concern about uncertainty over the service's budget as well as its performance on meeting national targets on response times.
It failed to meet the target of responding to 65% of the most urgent calls within eight minutes for the fourth successive month.
But the minister announced she wants to increase the Category A target to 70% of calls whereas in England it stands at 75%.
A final decision will be made after the review is completed, the Welsh government said.
A Welsh Ambulance Service spokesperson said: "The trust welcomes the minister's announcement and will fully support the Welsh government throughout the review process.
"We see this as a positive opportunity to create a strong platform on which to take forward the trust as a provider of high quality services within the wider health and social care system."
Mrs Griffiths has denied claims that a wrangle over funding had left the Welsh Ambulance Services NHS Trust without a budget.
'Get a grip'
It gets most of its funding from a committee whose members include the bosses of Wales' seven health boards.
Despite a deadline for budget negotiations to be concluded in June, a final settlement for 2012/13 was not agreed until 2 November.
Mrs Griffiths said the service's core financial allocation was agreed in April and that recent discussions were about "in-year adjustments".
She told AMs: "This will be a comprehensive review and will cover relationships with health boards, targets, and whether the current arrangements might be modified, and the relationship between emergency and non-emergency patient transport services."
Officials have been asked to draw up terms of reference by the end of the month, she said.
Liberal Democrat AM Peter Black said it would be the ninth review of its type.
Speaking during a Lib Dem-tabled Senedd debate about the ambulance service, he said: "It seems to me, minister, that you have to get a grip of this issue and I wonder whether a review is going to do it."
Plaid Cymru's Elin Jones said: "Evidence from around Wales is clearly indicating that our ambulance service is at breaking point."
She added: "Any financial uncertainty just adds to the turmoil faced by ambulance trust managers and paramedics."