BBC Cymru Wales-S4C programme agreement for four years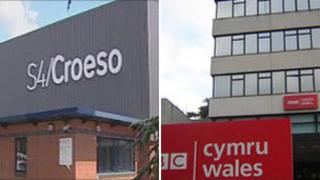 BBC Cymru Wales and S4C have welcomed an agreement that guarantees current levels of investment in programmes for the Welsh language broadcaster over the next four years.
It safeguards the statutory minimum 520 hours of programmes supplied by BBC Cymru Wales to S4C each year.
BBC Cymru Wales said the partnership underlined its commitment to Welsh language broadcasting.
It provides programmes to S4C including Pobol y Cwm and Newyddion.
"Crucially, we have made sure that - despite a challenging financial climate - our level of investment in popular Welsh language television programming supplied to S4C will be safeguarded for the next four years," said BBC Cymru Wales director Rhodri Talfan Davies.
"Our partnership continues to strengthen as we look forward to even more creative collaboration ahead."
The strategic partnership is the third of its kind to date and will run until 2016/17.
S4C chief executive Ian Jones said: "We welcome the BBC's commitment to maintaining the programme expenditure for the 10 hours per week the corporation provides for us.
"It will ensure that their top quality programming remains a cornerstone of our service."
This partnership is separate from the operating agreement between the broadcasters which sets out the relationship between them once the majority of S4C's funding comes from the licence fee from April next year.