Police and crime commissioner elections: Polls closed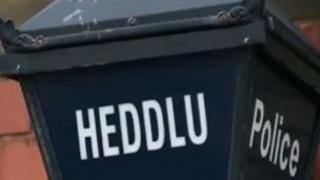 Polls have now closed in the election for the first commissioners of Wales' four police forces.
Elections have been taking place for the posts in all police forces in England and Wales outside London.
The UK government says the police and crime commissioners (PCC), who replace police authorities, will make policing more accountable to the public.
Polls were open until 22:00 GMT on Thursday, with the results due late on Friday morning or afternoon.
The commissioners will set budgets and appoint chief constables, but will not run day-to-day operations.
The supplementary vote system will be used where there are more than two candidates, with voters marking the ballot paper with a first and second choice of candidate.
If no candidate gets a majority of first preference votes the top two candidates go on to a second round when second preference votes are counted.
But in areas where there are only two candidates, which in Wales means only Dyfed-Powys, the winner will be chosen in a first-past-the-post election.
In Dyfed-Powys two candidates were standing: Christine Gwyther (Labour) and Christopher Salmon (Conservative).
Gwent Police has four candidates: Ian Johnston (independent), Hamish Sandison (Labour), Nick Webb (Conservative) and Christopher Wright (independent).
In the North Wales Police area there were five candidates: Richard Hibbs (independent), Colm McCabe (Conservative), Tal Michael (Labour), Warwick Nicholson (Ukip) and Winston Roddick (independent).
In the South Wales Police region there were four candidates: Michael Baker (independent), Caroline Jones (Conservative), Alun Michael (Labour) and Tony Verderame (independent).