Cardiff council £7.25m land purchase bid is scrutinised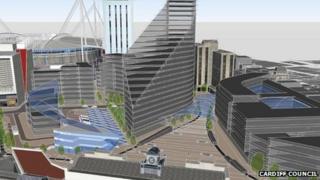 Cardiff council's move to buy a "derelict" city centre plot for a reported £7.25m has been scrutinised by councillors who questioned the plan.
The local authority wants to buy the land as part of the Welsh government's aim to create a finance sector enterprise zone in the city.
The decision was "called in" after some councillors said they did not have enough details to justify it.
The land owner has given the council until 23 November to agree a deal.
Cardiff council has launched an investigation after details about the move - to purchase land at Callaghan Square to the rear of Cardiff Central railway station - were leaked to the South Wales Echo.
Councillor Jayne Cowan asked for the matter to be called in claiming it was "doubtful that the proposal is in the public interest".
Councillor Russell Goodway, whose responsibilities include the local economy, refused to be drawn in to giving more details about the proposal during the public session of the "call-in" committee meeting on Friday afternoon.
But he said the leak of the proposal had already put it in some jeopardy.
He said: "This is a serious matter that has compromised the public sector's ability to get the best possible deal for the taxpayer.
"It has almost certainly cost taxpayers a considerable sum of money."
'Kerching'
He added: "All of a sudden the land owner goes 'kerching' and the price goes up."
The Echo has said it had been told the council wants to build a 300,000 sq ft head office on the site, freeing up the County Hall site for sale.
Mr Goodway told the scrutiny meeting that the land purchase proposal had not been motivated by Welsh government officials telling him that a third party was also interested in buying the plot.
However, he said if a third party did buy the land to "land bank" it - without developing the site - that would "sterilise the market for a number of years".
He said: "I'm not aware who the third party is or if there is a third party at all.
"My officials have spoken to the market and have not come up with a third party."
Mr Goodway defended the prospect of spending the money on the basis that the public purse was likely to benefit more by the council owning land than having the cash in the bank.
He said: "Now is the time to buy. Our cash holdings are earning precious little.
"Why shouldn't council tax payers have the benefit of owning this land?"
The meeting continued in closed session, with the press and public excluded, with Mr Goodway saying he would answer councillors' questions more fully in private.
Following the private session of the meeting, councillors agreed not to refer the land purchase proposal back to cabinet for further examination but to write to Coun Goodway with their observations.